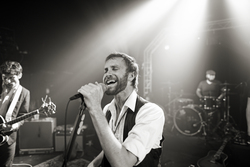 Nashville, TN (PRWEB) February 24, 2011
Paul McDonald's American Idol journey continued Wednesday, February 23rd, when the singer/songwriter was named to the competition's Top 24 roster. McDonald sang "Blackbird" with Nashville native Kendra Chantelle on The Beatles LOVE stage in Las Vegas to secure his spot. He had previously collaborated with Chantelle on a song he wrote titled "Like You Loved Me Then." Their performance of the song will be featured on The Grand Magnolia's official website and on Paul McDonald's official website in the coming days.
McDonald's American Idol journey began in Nashville, where the singer/songwriter auditioned and received a "golden ticket" from judges Steven Tyler, Jennifer Lopez and Randy Jackson, but he has been writing songs and performing nationwide for years. He began touring the country in 2005 as part of the band Hightide Blues, and his most recent project, an album titled The Grand Magnolias, was released in November 2010.
During his career, McDonald has performed with a variety of musicians, including the Zac Brown Band, Sara Bareilles and JJ Grey. His songs have garnered radio play and widespread acclaim, with more than fifteen Top 10 placements and one song that rose to Number Two on the "Best of Pop for 2011" list.
For more information on Paul McDonald, American Idol semifinalist, and his band The Grand Magnolias, visit http://www.thegrandmagnolias.com and http://www.thepaulmcdonald.com. Video of McDonald and the band can be viewed at The Grand Magnolia's official YouTube channel at http://www.youtube.com/user/TheGrandMagnolias.
###