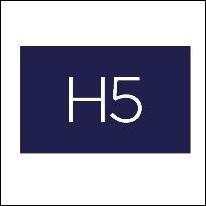 I am happy to assist H5 in this critical stage of its growth
San Francisco (Vocus) January 23, 2008
H5, the leading provider of automated document analysis and information risk management services for the legal industry, today announced that Paul J. Polking, former executive vice president, general counsel, and member of the Management Operating Committee for Bank of America Corporation and its predecessor companies, has joined its strategic advisory board. As a member of H5's advisory board, Mr. Polking will help shape H5's strategy in addressing the information management and regulatory compliance challenges of banks and other financial institutions.
"We are excited and honored to have Mr. Polking join our advisory board," said Nicolas Economou, H5's CEO. "The financial services industry is facing formidable challenges in document preservation and discovery which we at H5 address. We are fortunate to be able to benefit from his guidance and leadership."
"I am happy to assist H5 in this critical stage of its growth," said Mr. Polking. "H5 has an exceptional team and an effective approach to a deep-seated challenge that the legal industry will, or ought to, embrace."
Mr. Polking began his 34-year tenure with Bank of America in 1970, when he joined NCNB Corporation as the bank's second lawyer. He was named general counsel in 1988 and served in that capacity until retiring in 2004, at which time he presided over a legal department numbering over 230 attorneys.
NCNB, then NationsBank and now Bank of America, is widely credited with helping to dismantle geographic restrictions on banking. As the bank's general counsel, Mr. Polking was instrumental in enabling its first out-of-state acquisition, which not only triggered 70 additional acquisitions for the bank in the following 20 years, but had significant impact on the financial services industry, leading to the modern day consolidated banking system.
Mr. Polking joins a host of notable academic and business leaders advising H5, including Professor Arthur R. Miller, Bruce Bromley Professor of Law at Harvard Law School; S. Allen Lackey, Esq., former general counsel of Shell Oil Company; Raymond L. Ocampo Jr., Esq., former general counsel of Oracle Corporation; Stanley Stroup, Esq., former general counsel and executive vice president of Wells Fargo & Company; and John C. Dean, former chairman and CEO of Silicon Valley Bancshares and Silicon Valley Bank. For more information about H5's advisory board, view the video, ''Conversations with H5's Advisory Board.''
About H5
H5 provides automated document review and information risk management services to Fortune 500 companies and their outside counsel for their litigation, preservation, and compliance needs. By combining advanced proprietary technologies with professional services and process design expertise, H5 delivers a fully integrated review system that is customized for each client's needs -- a system that is unparalleled in performance and backed by proof. As a result, law firms and corporate legal departments are able to demonstrably reduce the cost, risk, and time-to-completion typically associated with large-scale document review. For more information, visit http://www.h5technologies.com .
For more information contact:
Sandra Song
H5 Public Relations
(415) 625-6748
ssong@h5technologies.com
# # #