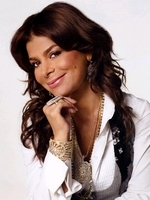 Its nice being the only judge
West Hollywood, CA (PRWEB) October 10, 2009
Paula Abdul is slated for her second appearance on Lifetime's most recent hit series, Drop Dead Diva. She will return as the pint sized fashionista judge, slinging the gavel to lay down justice--vocally and fabulously.
Her first appearance on September 13, 2009, was met with rave reviews and fans are eagerly anticipating Abdul's return to the pulpit on this new Sunday favorite. With her first appearance being so celebrated, it is only appropriate to reprise the role for the season closer, which is sure to draw rave reviews once again.
"Its nice being the only judge," jokes Abdul, stepping down from the American Idol bench to assume new roles such as this.
Abdul returns with all the glitz and glitter on Sunday, October 11, 2009. Josh Berman, creator of Drop Dead Diva, and Abdul have flirted with the idea of making this glamorous executor of justice a recurring role for next season. After a wildly successful first season, fans will be anxiously awaiting what lies ahead for the Diva characters and Abdul for the next installment.
As cited in Broadcasting & Cable, Lifetime's Drop Dead Diva scored a 1.6 rating among women aged 18 to 49 and a 1.9 in the women 25 to 54 demographic for its season premier, giving the network its highest-rated original drama series debut in those demographics since the launch of Army Wives in June 2007. Diva averaged 2.8 million total viewers.
The plot of Drop Dead Diva revolves around the main character, Deb Dobson, a blonde model that gets killed in a car crash. She is granted the opportunity to return to earth, but resumes life as an intelligent, but overweight lawyer named Jane Bingum. Jane struggles with reconnecting with her former boyfriend, juggling court cases, and living life in this new body with the help of her mortal friend Stacy and guardian angel Fred. Abdul, who consistently Twitters messages of hope and inner beauty to her fans and friends, is an ideal addition to the cast in this humorous, yet poignant lineup.
Drop Dead Diva airs on Sunday nights at 8:00 pm ET on the Lifetime Network.
For more information about Paula Abdul, visit the fan site at PaulaAbdul.com.
About Paula Abdul:
Never before has there been an international recording artist who has been equally recognized, awarded and celebrated both in front of the camera and behind the scenes, as has Paula Abdul.
In 2008, Paula began re-launching her music career after a ten-year absence. She took North America by storm with her single "Dance Like There's No Tomorrow," which was produced by fellow American Idol Judge Randy Jackson. The song hit #2 on the US Billboard Hot Dance Club Play charts, #11 on the United States iTunes music charts, and was the first single released from Randy Jackson's Music Club Vol. 1 album. Paula and Randy also performed the song together as part of 2008's Super Bowl XLII pre-game show.
In May 2009, the multi-platinum recording artist and American Idol judge released her new single "I'm Just Here For The Music," and made American Idol history by leaving the judges' table to perform it. The track reunites Paula with producer Oliver Lieber who helmed the chart-topping album Forever Your Girl.
Paula's extraordinary music career is exemplified by worldwide album sales exceeding 55 million records, two multi-platinum albums, six #1 singles, two Grammy Awards, five MTV Awards, four American Music Awards, two Emmy Awards, two People's Choice Awards, a Teen Choice Award and two Kid's Choice Awards. Paula has also been honored with her very own star on Hollywood Boulevard and was inducted into Nickelodeon's Kid's Choice Hall of Fame.
Her most celebrated work in choreography includes her Emmy-winning contributions to The Tracey Ullman Show, and Paula's own performance as an artist opening the American Music Awards: as well as an Emmy nomination for choreographing the Academy Awards. Other highlights include her award winning work with Janet Jackson, which garnered two MTV Video Awards; and working with such musicians as Aretha Franklin, George Michael, Luther Vandros, INXS, Heart and Prince. Her favorite memory would be dancing along side her idol Gene Kelly for a Diet Coke commercial. The television spot was inducted into the Coca-Cola Hall of Fame Museum as one of the most award winning commercial campaigns.
###