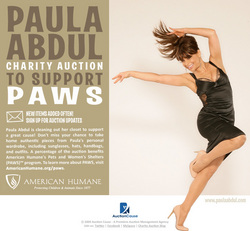 West Hollywood, CA (PRWEB) July 9, 2009
Paula Abdul and Auction Cause have teamed up to support PAWS, American Humane's Pets and Women's Shelters, and unveil an EBay Auction event that began on June 29th and will continue through the end of the summer.
Some of the featured items include clothing worn by Abdul during the previous seasons of American Idol and others worn to a variety of red carpet events and star-studded celebrations. Visit the EBay Auction to view the items available and place bids. An email alert registration is also available.
Paula Abdul serves as the national spokesperson for the American Humane PAWS program, which is designed to help women who are victims of domestic violence bring their pets along to shelters as a measure of security and comfort. The program helps ease women and children in this transitional phase of their lives by keeping the family pet bond intact.
"The PAWS Program is a critical way of providing a transition for abused women and children into a safer and better life," Paula said.
Some proceeds will also benefit Guide Dogs of America, an organization dedicated providing guide dog services to the blind and visually impaired free of charge throughout the US and Canada.
Support these charities and get a chance to own pants, tops, suits, and dresses worn by Abdul and created by top designers such as Dolce and Gabbana, Pucci, Burberry, Zac Posen, and others. Other items are new and still have original purchase tags. Each piece will arrive accompanied by a personal thank you note from Paula.
"These clothes have been a joy to wear," states Paula. "But it's an even greater joy to pass them on and help some great causes at the same time!"
Auction Cause is the leader in cause marketing campaigns, branding, and fundraising utilizing the eBay platform, generating more than 1 billion media impressions and counting. They integrate these campaigns with social media outreach using Twitter, Facebook, blogs, viral videos, and more, to tap an even wider audience.
For more information on the auction and on Paula Abdul's other events and activities, visit the Paula Abdul official site.
About Paula Abdul:
Never before has there been an international recording artist who has been equally recognized, awarded and celebrated both in front of the camera and behind the scenes, as has Paula Abdul.
In 2008, Paula began re-launching her music career after a ten-year absence. She took North America by storm with her single "Dance Like There's No Tomorrow", which was produced by fellow American Idol Judge Randy Jackson. The song hit #2 on the US Billboard Hot Dance Club Play charts, #11 on the United States iTunes music charts, and was the first single released from Randy Jackson's Music Club Vol. 1 album. Paula and Randy also performed the song together as part of 2008's Super Bowl XLII pre-game show.
In May 2009, the multi-platinum recording artist and American Idol judge released her new single "I'm Just Here For The Music," and made American Idol history by leaving the judges' table to perform it. The track reunites Paula with producer Oliver Lieber who helmed the chart-topping album Forever Your Girl.
Paula's extraordinary music career is exemplified by worldwide album sales exceeding 55 million records, two multi-platinum albums, six #1 singles, two Grammy Awards, five MTV Awards, four American Music Awards, two Emmy Awards, two People's Choice Awards, a Teen Choice Award and two Kid's Choice Awards. Paula has also been honored with her very own star on Hollywood Boulevard and was inducted into Nickelodeon's Kid's Choice Hall of Fame.
Her most celebrated work in choreography includes her Emmy-winning contributions to The Tracey Ullman Show, and Paula's own performance as an artist opening the American Music Awards: as well as an Emmy nomination for choreographing the Academy Awards. Other highlights include her award winning work with Janet Jackson, which garnered two MTV Video Awards; and working with such musicians as Aretha Franklin, George Michael, Luther Vandros, INXS, Heart and Prince. Her favorite memory would be dancing along side her idol Gene Kelly for a Diet Coke commercial. The television spot was inducted into the Coca-Cola Hall of Fame Museum as one of the most award winning commercial campaigns.
# # #