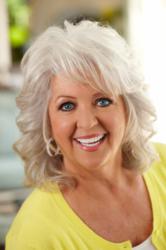 Savannah, GA (PRWEB) June 28, 2013
Amid recent events that have made Paula Deen a main-staple on the news circuits, her fans have reacted with a massive outpouring of support. The celebrity chef has seen hundreds of thousands of fans reach out to her on social media forums. The Emmy-award winning TV personality's Facebook Platform® page https://www.facebook.com/PaulaDeen has seen a huge jump in likes, to a total of over 2.6 million.
Touched by her fan's unwavering dedication, Deen posted the following message on her Facebook: "Dear Friends, Hi, it's me Paula. I just had to stop long enough to send love and thanks for the kind words you have all shared with me and my family, and all the support you have shown me over the past week. Please keep me in your thoughts and prayers. Love, Paula."
Deen's post quickly went viral with almost half a million likes and over 80 thousand comments. Thousands of fans expressed their love for Deen.
Debra Douglas wrote: "U are loved more today than yesterday AND THE DAY BEFORE THAT AND THE DAY BEFORE THAT! Keep UR head up! There are alot of ppl praying for u."
Another fan, Janie Tyrrell Patrick, wrote: "You will make it past this!!! America loves Paula Deen!!!"
Even corporations posted on their Facebook walls in support of Deen. Springer Mountain Farms wrote: "We support Paula Deen. We have worked closely with her for the last two years and know her to be a compassionate, caring person. We have seen her with all types of people and have never seen any sign of prejudice. We truly believe her when she says she is sorry for any hurt feeling she has caused. We are very pleased with the interview Paula Deen gave this morning offering her apologies and reaffirming her personal commitment to equality and fairness for all. As an organization, we believe that she and her team are on the right track and we look forward to continuing to work together."
Paula Deen is a down-home, strong willed mom who overcame personal tragedy, long odds, financial and physical challenges to carve one of the most wide ranging entertainment brands that exists today. Deen has had several hit cooking shows on the Food Network, such as "Paula's Home Cooking," "Paula's Party" and Paula's Best Dishes." Deen is a two-time Emmy Award winner.
In addition, Deen is the author of 14 cookbooks that have sold more than 8,000,000 copies, and her bimonthly magazine Cooking with Paula Deen has a circulation of nearly 1,000,000 today.
Paula's business interests have grown considerably. In 2011, Paula Deen Foods was launched and beginning in 2013, featuring food products based on her traditional recipes and lighter versions as well. These products were developed in Paula's kitchen and Paula's Pantry's will be in retailers across the country. Along with The Lady & Sons, which she co-owns with her sons Jamie and Bobby. Paula and her brother Bubba own Uncle Bubba's Oyster House, a leading seafood restaurant in Savannah. Additionally, in partnership with Caesars Entertainment, there are Paula Deen Buffets at Harrah's Tunica in Mississippi and at Horseshoe Southern Indiana Casino, where the décor is based on Paula's Savannah home and kitchen and similarly themed full service restaurants at Harrah's Cherokee and Harrah's Joliet.
In addition to a long-running partnership between Paula Deen and Smithfield Foods, Paula Deen Enterprises now includes 17 different licensees and covers a broad gamut of good living products. The product line includes a full line of cookware and dishes, assorted food products, sauces, spices and bakery goods. In recent years Paula also introduced a complete line of furniture, greeting cards and the Paula Deen and Family Party at Sea Cruise.
Ever grateful for all she has been blessed with, Paula and her family continue to give back to the community. Paula is a member of the board of the Bethesda Home for Boys, works tirelessly for America's Second Harvest and partners with Smithfield Foods Helping Hungry Homes™ which has donated protein for more than 10,000,000 meals for America's hungry.
Facebook's mission is to give people the power to share and make the world more open and connected. Facebook users communicate and share information through the social graph, the network of connections and relationships between people. With more than 900 million active users, Facebook is the fourth-most trafficked website in the United States.
In 2007, the Facebook Platform was launched to empower developers and entrepreneurs around the world to make the Web more social for users. Millions of Facebook users return to the site each day, providing unparalleled distribution potential for applications and the opportunity to build a business that is highly relevant to people's lives.
For more information, visit http://www.PaulaDeen.com.
Facebook® is a registered trademark of Facebook Inc.