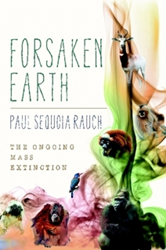 "Forsaken Earth" illuminates the errant dominant cultural ideology that underlies the causes of the ongoing mass extinction of Earth's nonhuman species.
SEDONA, Ariz. (PRWEB) September 07, 2016
Since his early youth, Paul Sequoia Rauch has been aware of the human impact upon the ecosystems of Earth. He eventually realized how critical and monumental the mass extinction of species has become, and how much it is being fundamentally ignored by people around the world. As a call to action, Rauch publishes "Forsaken Earth" (published by Lulu) to educate people about the Earth and its life.
Rauch's book is premised on the observation that life on Earth is currently suffering a planetary, mass extinction of non-human species caused by humans. "Forsaken Earth" illuminates the errant dominant cultural ideology that underlies the causes of the ongoing mass extinction of Earth's nonhuman species.
"We are destroying all ecosystems of our world but doing relatively nothing about it. If we don't wake up and make drastic, fundamental changes to prevent it now, the current extinction event will be a force in full and unstoppable motion, in our lifetimes, before most even know it's happening," Rauch tells.
With 59 chapters, "Forsaken Earth" also explains the importance and plight of pollinators, tuna, primates, corals and many other species due to the effects of historic cultural indoctrination. "Forsaken Earth" also proposes more solutions to our problems than any other book, including a modern integration of indigenous ideology.
An excerpt from the book "Forsaken Earth:"
The gorgeous species of our Earth are being annihilated in only a few decades for what we erroneously seem to think is progress towards a better world. The full extent of species loss is expected to happen between 35-85 years. Without changing our ways, by the sixty-year average of this likelihood (2075), fifty percent (4.5 million) of our planet's unique species will be gone from our world, from the Universe, from Creation, forever.
"Forsaken Earth, the Ongoing Mass Extinction"
By Paul Sequoia Rauch
Softcover | 6 x 9in | 372 pages | ISBN 9781483454498
E-Book | 372 pages | ISBN 9781483454481
Available at Amazon and Barnes & Noble
About the Author
Paul Sequoia Rauch is the founder and president of The Foundation for the Survival of Species, which educates people about endangered species and the ongoing mass extinction. He is a life-long naturalist and spent over a decade of summers in his youth soloing in the virgin mountain wilderness areas of the Pacific Northwest's ancient temperate rainforests, often off trail. He later earned a bachelor's degree in nonfiction writing from The Evergreen State College. He currently works as a counselor in the outdoors of Northern Arizona, contributing to one of the top couple's healing retreats in the U.S.
Lulu empowers people of all ages to explore and express their interests, passions and expertise through books, photography and art. Since introducing self-publishing in 2002, Lulu has empowered creators in more than 225 countries and territories to produce nearly two million publications. Lulu Jr. allows children to become published authors, encouraging creativity, strengthening literacy and building self-esteem. Picture.com offers professional photography of collegiate and professional sports, memorable and historic events, fine art and home décor. For more information, please visit lulu.com.