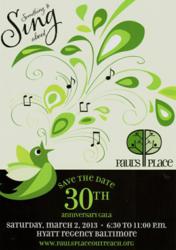 It's going to be an evening of celebration and an evening not to forget.

-Bill McLennan, Executive Director, Paul's Place
Baltimore, MD (PRWEB) February 22, 2013
To celebrate its 30th anniversary, Paul's Place, Inc., a community outreach center in Southwest Baltimore, will host Something to Sing About! on Saturday, March 2 at the Hyatt Regency Baltimore. The gala will raise funds to support Paul's Place programs. A gathering place for neighbors and those in need, Paul's Place has been providing hot meals and support for residents since 1982. The gala will be a night of celebration, honoring three local organizations with the 2013 Commitment to Community Award.
The first organization to be honored is the University of Maryland Baltimore County Shriver Center for playing an integral role in the growth of Paul's Place. The Shriver Center has provided valuable technical expertise and analysis to develop and evaluate Paul's Place programs.
Graul's Market has been a big supporter of Paul's Place from the very beginning. The locally-owned grocery store provides weekly food donations, as well as special holiday food baskets. Through the years, Graul's has donated fresh, nutritious foods for Paul's Place guests helping to improve overall health in Southwest Baltimore.
St. John's - Western Run Parish has a long relationship with Paul's Place, having founded the organization in 1982. Members of the church have supported Paul's Place by cooking, serving food, volunteering, collecting clothing and holiday gifts, tutoring and serving on committees.
"It's going to be a spectacular evening filled with tributes, silent and live auctions, great food, great company, dancing, and music," said Paul's Place Executive Director Bill McLennan. "It's going to be an evening of celebration and an evening not to forget."
Paul's Place anticipates more than 500 guests, made up of committed, active and influential supporters who are interested in building a stronger Baltimore. The event will include the award presentation, auctions, dinner, dessert, and dancing.
About Paul's Place, Inc.
Paul's Place is a catalyst and leader for change, improving the quality of life in the Washington Village/Pigtown neighborhood and the surrounding Southwest Baltimore communities. Paul's Place serves more than 75,000 guests annually, providing programs, services and support that strengthen individuals and families, foster hope, personal dignity and growth. For more information on Paul's Place, visit http://www.paulsplaceoutreach.org.