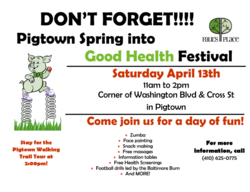 The quality of health in southwest Baltimore is significantly less than the rest of Baltimore City, and Paul's Place wants to change that.

-Bill McLennan, Executive Director, Paul's Place
Baltimore, Md. (PRWEB) April 10, 2013
Paul's Place, Inc., a community outreach center in southwest Baltimore, will host the Pigtown Spring into Good Health Festival on Saturday, April 13th at the corner of Washington Boulevard and Cross Street in Pigtown. The festival will include free massages, healthy food samples, free health screenings, and much more.
The health fair, which is free and open to the public, is designed to increase health awareness to southwest Baltimore residents. Paul's Place uses the fair as an opportunity to educate neighbors about healthy self-care practices and encourage residents to make positive health behavior changes. The festival focuses on five areas of health: healthy eating, active lifestyles, smoke-free living, drug and alcohol-free living, as well as social and emotional health.
More than 30 vendors will participate in the health fair to as part of this mission. Activities will include drumming circles, massages, football drills led by the Baltimore Burn women's football team, healthy food samples, and children's activities, along with plenty of free health information. There will be brief screenings available for diet, sleep, stress, and alcohol, as well as demonstrations about other health topics.
"It's going to be a great day in Pigtown filled with fun activities like Zumba, face painting, snack making, and more," said Paul's Place Executive Director Bill McLennan. "The quality of health in southwest Baltimore is significantly less than the rest of Baltimore City, and Paul's Place wants to change that. The Festival is a step towards educating our neighbors about the importance of good health and a reminder for us all to take care of ourselves and others."
About Paul's Place, Inc.
Paul's Place is a catalyst and leader for change, improving the quality of life in the Washington Village/Pigtown neighborhood and the surrounding Southwest Baltimore communities. Paul's Place serves more than 75,000 guests annually, providing programs, services and support that strengthen individuals and families, foster hope, personal dignity and growth. For more information on Paul's Place, visit http://www.paulsplaceoutreach.org.