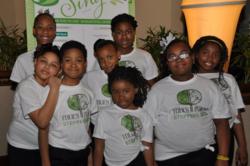 "Through this mix of cultural experiences, children have the chance to make memories of a lifetime." - Bill McLennan, Executive Director, Paul's Place
Baltimore, Md (PRWEB) June 25, 2013
Paul's Place, Inc., a community outreach center in Washington Village/Pigtown, continues its annual "Summer Outreach Camp for Kids" (SOCKS) camp program that helps expand horizon of at-risk elementary school students. The summer camp works with children in the community for eight weeks, providing them with wholesome activities and offers experiences that the children would not have in Pigtown.
Over the summer, 40 student campers will visit suburban locations throughout central Maryland and participate in field trips to the Baltimore Zoo, the Natural History Museum in DC, and the Franklin Institute in Philadelphia. For the last three years, students have enjoyed a trip to Woodberry Crossings, a facility with 100 acres of woods, hiking paths, streams and animals. Here, students get the chance to broaden their vision and understanding of life through meeting and interacting with people, animals and the natural world.
Through a partnership with the Enoch Pratt Library, Paul's Place brings campers to the library throughout the summer and actively encourages them to read books to help prepare them for school in the fall. Last summer the campers read over 1,000 books.
"Summer is always a time of learning loss because you don't have that direct classroom experience," said Paul's Place Executive Director Bill McLennan. "Through this mix of cultural experiences, children have the chance to make memories of a lifetime and experience new things that broaden their thinking and horizons."
Paul's Place recently expanded the summer camp program to middle school and high school students. The high school program collaborates with "Art with a Heart" to create unique pieces of marketable art to sell at ArtScape, an annual arts & music festival held in Baltimore City. This provides the high school students with real life work experience for their resumes. The middle school program is a three-week program that consists of five days at an overnight YMCA camp, one week of enrichment activities such as sports, jewelry-making, swimming and dance, and 1 week of field trips to various sites outside of Baltimore.
For more information about Paul's Place summer camps or other programs and services available, visit http://www.paulsplaceoutreach.org.
About Paul's Place, Inc.:
Paul's Place is a catalyst and leader for change, improving the quality of life in the Washington Village/Pigtown neighborhood and the surrounding Southwest Baltimore communities. Paul's Place serves more than 80,000 guests annually, providing programs, services and support that strengthen individuals and families, foster hope, personal dignity and growth. For more information on Paul's Place, visit http://www.paulsplaceoutreach.org.