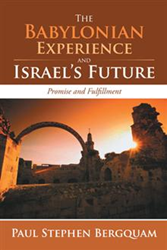 "'The Babylonian Experience and Israel's Future' provides fresh insight into the prophesies that preceded the Babylonian Captivity and events both during and after the return from Babylon."
Clovis, Calif. (PRWEB) February 28, 2014
"In the Bible, God promises to maintain the nation of Israel as long as the Earth remains. For centuries this promise seemed irrelevant – an impossible dream for a scattered people," says author Paul Stephen Bergquam. "In 1948, however, the dream became reality, and Israel once again appeared on the stage of history." In "The Babylonian Experience and Israel's Future: Promise and Fulfillment" (published by CrossBooks), Bergquam's new religious book, readers are taken through a study about God and how Israel, today, can survive, but only because of God's unfailing promises.
Bergquam shows readers that God used the Babylonian exile to begin a new redemptive work among His people that included a godly remnant. The author accomplishes this feet by showing readers essential points regarding the Babylonian exile such as :

There was a community-wide repentance.
The Torah became recognized as authoritative.
The words of true prophets were identified and believed (e.g., Jeremiah's seventy years).
The distinction was made between that which is holy and that which is profane.
Judaism entered its formative years, including elements of the synagogue.
Idolatry was rejected.
Spiritual leaders developed a new place of importance within the community (e.g., Ezra).
"This project was developed from a dissertation project at Trinity Seminary," says Bergquam. "'The Babylonian Experience and Israel's Future' provides fresh insight into the prophesies that preceded the Babylonian Captivity and events both during and after the return from Babylon."
"The Babylonian Experience and Israel's Future"
By Paul Stephen Bergquam
Hardcover | 6 x 9 in | 220 pages | ISBN 9781462730698
Softcover | 6 x 9 in | 220 pages | ISBN 9781462730674
E-Book | 220 pages | ISBN 9781462730681
Available at Amazon and Barnes & Noble
About the Author
Paul Stephen Bergquam earned a master's degree from Dallas Theological Seminary and a Ph.D. from Trinity Seminary in Newburgh, Ind. He serves as pastor of Sanger Community Church in Sanger, Calif. Bergquam and his wife, Cherry, have three children and five grandchildren and live in Clovis, Calif.
CrossBooks, a division of LifeWay Christian Resources of the Southern Baptist Convention, is a Christian publishing imprint committed to bringing more Christian voices into the publishing industry. Established authors, first-time authors, and authors anywhere in between can meet their goals and fulfill their vision for their books by publishing with CrossBooks. CrossBooks' innovative style of publishing blends the best of traditional and self-publishing. While our authors contribute monetarily to cover the cost of publishing, we maintain a strict moral and quality standard that every manuscript must meet for us to publish. For more information on publishing your Christian book with CrossBooks, log on to crossbooks.com or call 1-866-879-0502.