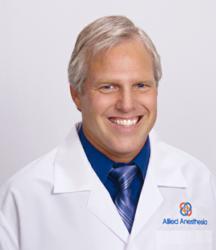 Orange, CA (PRWEB) June 03, 2013
Allied Anesthesia physician Paul Yost is in line to lead the 3,000-member California Society of Anesthesiologists, which promotes the highest professional standards, provides continuing education and advocates for anesthesiologists and their patients.
He was named president-elect during the 2013 House of Delegates meeting in Los Angeles May 18 and 19.
Yost has always believed that it is important to be involved in organized medicine.
"We're so much stronger when we work together," Yost said. "To me it's something you do. It's a part of your professional life. You get involved and try to leave the organization better than when you started."
As president-elect, Yost will work closely with the CSA president to find ways to support the membership, their specialty and their patients.
Currently, Yost practices adult and pediatric anesthesiology at St. Joseph's Hospital of Orange, where he is director of cardiothoracic anesthesia, and CHOC Children's Hospital, where is he past president of the medical staff.
Since the CSA position will require him to spend more time away from his practice, Yost discussed the matter beforehand with the other Allied Anesthesia physicians, who will have to pick up the slack.
"The whole group is contributing in a sense by allowing me to do this," Yost said.
In his new role, Yost will be able to keep his colleagues at Allied Anesthesia up to date on the latest developments in their field for their own growth and for the benefit of their patients.
Yost received a bachelor's degree in Psychology at Stanford University where he graduated with honors in 1982. He earned his Medical Doctorate degree from Baylor College of Medicine in 1986 and completed two medical residencies: Pediatrics at Jackson Memorial Hospital, Miami, Florida, and Anesthesiology at UCLA.
About Allied Anesthesia: With 48 highly qualified anesthesiologists on staff, Allied Anesthesia provides adult and pediatric anesthesia services to St. Joseph Hospital of Orange, CHOC Children's Hospital, the Main Street Specialty Surgery Center, and many other Southern California healthcare facilities.
Allied specializes in pediatric anesthesia, performing approximately 12,000 pediatric anesthetic procedures a year. All of the group's anesthesiologists have a special interest in pediatric pain management and are board certified or board eligible in pediatric anesthesia. All Allied Anesthesiologists are board certified, and they staff and manage the most efficient operating rooms in Southern California.
Allied is a member of the California Society of Anesthesiologists and the American Society of Anesthesiologists.
For more information, visit http://www.alliedanesthesia.com/