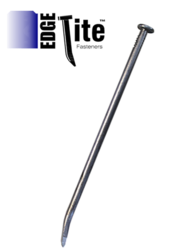 EdgeTite paver spikes are unique because of their angled tip.
Mechanicsburg, PA (PRWEB) April 17, 2013
Edgetite Products Inc. is pleased to announce new paver edging spikes that make paver installation projects stronger. Edgetite paver spikes help solve the separation problem that can occur after installing paver edging spikes. They were created with firsthand experience when Jeff Goodman, a brick paving installer, encountered this problem during an installation. He immediately started thinking about how to make installations more successful. The result is a stronger and more secure fastener, which is made possible by an angled tip which allows it to hold the edging tighter and reduces separation.
Goodman also thought about the changing seasons when he designed the edging spikes. Thinking of natural weather conditions, such as freezing and thawing, he thought about how to do two main things: reduce separation and also reduce the need for future repairs. Overall, EdgeTite Fasteners are stronger and more secure.
Edgetite paver spikes are unique because of their angled tip, which deflects away from the installation as it is hammered into the base. As the head of the spike is tilted, this tightens the edge against the brick, keeping it sturdy and attached. When Mr. Goodman tried this out from the first test spike, he was amazed at the result. The angled installation strengthens the entire system.
A video showing how the fasteners work can be viewed at http://www.edgetite.com/videos For more information about paver edging spikes, visit http://www.edgetite.com.
Contact jgoodman(at)edgetite(dot)com for more information.