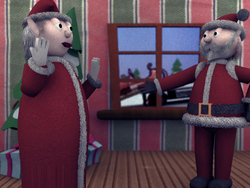 Putting presents under the tree is a real challenge for many Americans this year
Cleveland, OH (PRWEB) December 11, 2008
A new television commercial features an animated Santa Claus selling his unwanted gold and silver items to pay for this year's Christmas holiday. Titled "Broke Santa", the spot tackles the season's economic blues with an irreverent sense of humor.
The commercial begins with the debt-laden Santa and Mrs. Claus watching as their sleigh is repossessed by their bank. The Clauses then gather up their jewelry, old coins and even the North Pole's silverware for a trip to Cleveland in an improvised sleigh fashioned from a old beat-up car.
"Putting presents under the tree is a real challenge for many Americans this year," said Jim Mataich, President of Coin and Jewelry Buyers of America. "People are losing their jobs and struggling to make their house payments. For many folks, their unwanted gold and silver will be their lifeline this Christmas. And unlike many precious metal buyers, we pay in cash so overdrawn consumers don't need to wait days for a check to clear."
The spot was created by Nate Craddock and Don Pavlish of PavlishGroup, a Northeast Ohio multimedia marketing agency. "Many middle class Americans aren't used to tough times like these," explained Pavlish. "They don't realize that they could turn that old silver tea set or bag of broken jewelry into instant cash."
Further, Pavlish said, some people feel embarrassed about selling personal possessions to stay solvent this holiday season. "That's why our commercial shows Santa and Mrs. Claus struggling with the same problems affecting tens of millions of Americans. In a humorous way we're making the point that everyone's in the same boat - whether you live in Cleveland or at the North Pole. There's nothing wrong with needing a little extra money right now, and there's no shame in selling your old silver and gold to get it."
Shot in the style of 1960s stop-action animation, "Broke Santa" is designed to evoke viewers' memories of the golden age of holiday television. "We spent over 175 hours creating this spot," said Craddock. "We combined computer animation with hand-drawn images and miniature models to make the visuals feel as authentically vintage as possible."
The spot, which recently began airing in Cleveland, has led to a noticeable increase in traffic to Coin and Jewelry Buyers' two locations. "We've had a lot of new people come in because of the commercial," said Mataich. "Many of them tell us the ad made them laugh, and at the end of the day, hopefully that helped make a tough situation just a little bit easier for them."
To view the commercial or download print-ready images and broadcast-quality video and audio, visit:
http://www.pavlishgroup.com/santa
###