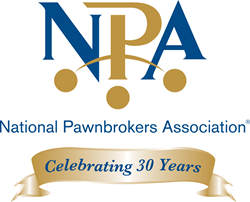 The NPA community of pawnbrokers is committed to supporting the educations of the next generation of business leaders to further strengthen the industry
Keller, TX (PRWEB) June 23, 2017
The National Pawnbrokers Association (NPA) is pleased to announce the recipients of the 2017 Future Business Leaders (FBL) Scholarships. Through generous donations by pawnbroker members of the NPA, the following seven students were awarded $1,000 scholarships:
Savannah Garris
Sponsor - Sylacauga Pawn Shop, Alpine, AL
Austin Dale Hipps
Sponsor - Larry's Jewelry & Pawn, Harvest, AL
Julia Mae Newberry
Sponsor - Johnson Brothers' Jewelry & Loan, Mansfield, OH
Destiny Owens
Sponsor - Lombard Financial Services, Inc, Fort Worth, TX
Joseph Marvin
Sponsor - Alan's Jewelry & Pawn, Inc, Asheville, NC
Miranda Fulton
Sponsor - USA Pawn & Jewelry, Ridgeland, MS
Zachary McClain
Sponsor - USA Loans, Little Rock, AR
Dana Meinecke, Executive Director of the National Pawnbrokers Association, emphasized the importance of supporting aspiring business students with recognition and scholarships to help secure their continuing education. "The NPA community of pawnbrokers is committed to supporting the educations of the next generation of business leaders to further strengthen the industry," said Mrs. Meinecke. "The Future Business Leaders scholarship program has awarded over $147,000 since its inception in 2003."
FBL also awarded a $1000 scholarship to Concerns of Police Survivors (C.O.P.S.). Since 1994, C.O.P.S. has donated over a million dollars in scholarships to survivors of fallen officers who do not receive tuition-free education as a state death benefit. C.O.P.S. provides scholarships to survivors who no longer meet their state's eligibility for assistance.
The Future Business Leaders scholarship program was established to provide financial aid to individual applicants who are planning to enroll or are enrolled in an accredited two-year or four-year college or trade school.
Qualified applicants are children, grandchildren, customers, or employees of NPA members or an individual. Qualified applicants are sponsored by an NPA member in good standing. Student selection is based on academic performance, community leadership, and written essay submissions.
NPA is proud to be an active member in our communities by giving to programs like the Future Business Leaders scholarship and C.O.P.S. programs.
For more information, contact media(at)nationalpawnbrokers(dot)org or visit NationalPawnbrokers.org.
The NPA works to provide independent pawnbrokers nationwide with resources and tools to strengthen the pawn industry. NPA members are committed to operating their businesses in such a manner as to enhance and promote the positive and professional image of all pawnbrokers. Members believe in establishing positive and long-lasting relationships with local, state, and federal government officials. The NPA is the industry's only national association and is located in Keller, TX.