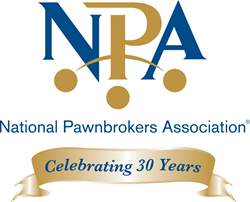 Mr. Prochaska has been a driving force in the growth and development of the NPA.
Keller, TX (PRWEB) July 11, 2017
The National Pawnbrokers Association (NPA) is proud to award Kevin Prochaska of Lombard Financial Services, Longview, TX, with its highest honor, the Charles R. Jones Lifetime Achievement Award. Mr. Prochaska accepted the award at the NPA Annual Awards Luncheon.
Mr. Prochaska has been a driving force in the growth and development of the NPA. He has served on the association's board of directors in nearly every capacity, including NPA president from 2011-2013. While steadily growing and maintaining his own chain of stores, adhering to the highest business and ethical standards, he contributed his time and energy to ensure the NPA developed under the same rigorous and watchful eye. He has provided the NPA countless volunteer hours, charitable and financial support, and is the first to volunteer for any task, regardless of how thankless it may be. 
His intelligent and personal approach to industry issues, his unerring business acumen, and his formidable accounting skills have been made freely available to his colleagues. He has taught, travelled, consulted, and counseled fellow pawnbrokers through difficult years of growth and change at his own expense.. 
The Charles R. Jones Lifetime Achievement Award recognizes individuals who, through their outstanding leadership and efforts, have gone above and beyond to make a significant and lasting impact on the pawn industry over the course of their pawnbroking career. Honorees are regarded by their peers as leaders in the industry and recognized as such, nationally.
History of the Charles R. Jones Lifetime Achievement Award:
Charles R. Jones served two terms as NPA President and considered the members of the Association his extended family. He traveled around the country to get to know pawnbrokers on a more personal level, learning as much as he could about their needs and concerns.
In recognition of his efforts on behalf of the pawn industry, Charles received the NPA Lifetime Achievement Award in June of 1997. Sadly, Charles passed away in October of that same year. His history of service and devotion to the industry was further honored by changing the name of this award to the Charles R. Jones Lifetime Achievement Award, which has been awarded over the years to pawnbrokers who have exemplified a similar devotion to the NPA and the needs of its membership.
For more information about the NPA, visit NationalPawnbrokers.org.
The NPA works to provide independent pawnbrokers nationwide with resources and tools to strengthen the pawn industry. NPA members are committed to operating their businesses in such a manner as to enhance and promote the positive and professional image of all pawnbrokers. Members believe in establishing positive and long-lasting relationships with local, state, and federal government officials. The NPA is the industry's only national association and is located in Keller, TX.