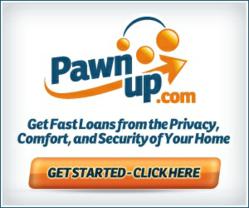 We always aim at making the application process as easy as possible.
(PRWEB) June 26, 2013
"Online application process at PawnUp.com has been improved recently, based on the analysis of the requirements of our website visitors. We always aim at making the application process as easy as possible, because we believe that customers should enjoy the whole process of online pawning," said Jay Martin, a spokesperson for PawnUp.com online pawn store.
At PawnUp.com online pawn shop website, visitors may chat to a live customer representative or apply for a loan immediately. After filling out a short application form, customers are contacted by a PawnUp.com specialist – usually, with a pawn loan offer, if they were provided with enough information about the valuables.
"Simplicity and accessibility of the online pawn service, that's what PawnUp.com pawnshop representatives keep in mind while helping people to get pawn loans online. From the first click on PawnUp.com's website to the moment when customers get cash transferred to their account," Mr. Martin continued.
About PawnUp.com
PawnUp.com is the leading online pawnbroker, fully accredited member of Better Business Bureau (BBB). It provides exceptional customer service, low interest rates, no storage fees, fast, free evaluations, free insurance and overnight shipping via FedEx, highest level of security and confidentiality.