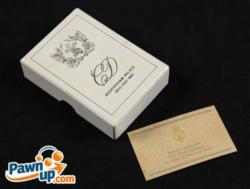 We greatly admired the late Princess Diana's dedication to helping disadvantaged people the world over. Our company's mission is also to provide assistance to those in need.
(PRWEB) November 11, 2012
PawnUp.com served up a total of $7100 today at an auction held by Julien's Auctions of Beverly Hills. The first bid was placed on a slice of cake from the wedding of the Prince and Princess of Wales who were famously united in 1981. While the cake is no longer suitable for human consumption, it was still expected to fetch between $1000 and $2000. It ultimately sold for $1100. In a surprising twist, the winning bid for the brandy-infused slice of wedding cake from the union of Prince William to Kate Middleton was estimated to be between $600 and $800, and yet the winning bid was an astonishing $6000.
So what could have prompted this seemingly bizarre purchase? The auction house describes these items as "ultimate in Royal historical memorabilia." In this context, the purchase by the online pawn shop makes perfect sense. PawnUp.com buys items outright, and provides short and long term loans on luxury goods and collectibles.
"Despite the fact that we can't eat them, the wins couldn't be any sweeter" said Jay Martin, a spokesperson for PawnUp.com. The online pawn shop has no immediate plans for the iconic pastries but Martin did go on to say "We greatly admired the late Princess Diana's dedication to helping disadvantaged people the world over. Our company's mission is also to provide assistance to those in need. Therefore, whatever we decide to do, we intend to honour her by continuing to extend goodwill to others."
In the meantime, the cakes will be housed in the secure offices of PawnUp.com. "They couldn't be safer if they were locked up in Buckingham Palace itself" said Martin. He added, "By purchasing both pieces of Royal wedding cake, PawnUp.com is delighted to have the opportunity to keep a little piece of the Royal family together; and hopefully happily ever after."
About PawnUp.com
PawnUp.com is a leading provider of online pawn services in North America. It offers exceptional live customer support, free, fast appraisals and shipping, low interest rates on secured loans (up to 5%), confidentiality and security. Unlike most other lenders, PawnUp.com does not require any proof of a good credit history from its customers. One can also sell the valuables directly to PawnUp.com; items for sale are fully insured and shipped for free. For more information about PawnUp.com visit pawn shop online at http://www.PawnUp.com