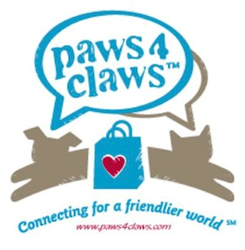 The top trending gifts for pets and pet lovers this 2014 holiday season range from dog breed ties, personalized dog and cat breed charm watches to gift boxes for dogs, cats or customized for the pet and owner as a gift for both in one big beautiful basket
Chapel Hill, NC (PRWEB) November 17, 2014
Paws4Claws, a leading online specialty website that launched in 2010 selling pet-themed gifts for dog and cat lovers, and animal enthusiasts, has now entered the pet market. The entry into the pet products market has led to a website redesign, a new slogan and the announcement of its 2014 Top Ten Holiday Gifts For Pets and Pet Lovers.
As a result of annual double digit growth and attracting a wide global audience, the privately held company that previously only sold pet themed gifts, home décor, jewelry and accessories to pet parents and animal lovers will now also sell products directly for use by the pet. The company created a new slogan to reflect this change as part of an online marketing campaign to promote its entry into the pet products marketplace. The new slogan is, 'Paws4Claws - Gifts, Gear, Gourmet and Goodies 4 Pets and Their Humans' and is meant to also reinforce its leadership position in the pet themed gift, home decor, and gourmet, jewelry and accessories arena.
Paws4Claws is known for building meaningful bonds and relationships with its customers. Hands-on owners, Karen and Wayne Barnett, work every aspect of the business including answering customer call lines, along with their team. In doing so, they have had direct contact with so many customers, many who never know who they are and others who share their pet's stories. "In an online world usually recognized as being impersonal and lacking customer friendly service, we want to offer truly personalized serviceand have developed a first name basis with many of our customers that we can now call friends", said Karen Barnett, CEO of Paws4Claws. The company also stands apart from its competition because it donates 10% of profits to pet and people charities.
According to Barnett, "the top trending gifts for pets and pet lovers this 2014 holiday season range from dog breed ties, personalized dog and cat breed charm watches to gift baskets for dogs, cats or customized for the dog and dog owner, and cat and cat parents, with edible foods and fun gifts selected specifically for both of them".
1. Dog Breed Ties. Not just any tie. This one has your own dog breed woven into a 100% silk tie made in America.
2. Dog and Cat Breed Charm Watches. Over 200 breeds to choose from filled with charms and can be personalized with your pet's name, your name or initials.
3. Pet Lover Drinkware. Have holiday cheer all year long with fabulous pet inspired Drinkware. Toast to the holidays with glassware available with pet designs, some in combination with messages like, 'Keep Calm and Rescue On', 'I've Only Had One In Dog/Cat Years' and 'Live Love Rescue'.
4. Leather Waste Bag Holder/Matching Leashes and Collars. The perfect accessory for the times you and your dog are on-the-go, this leather waste bag holder fits a standard roll of plastic poop bags and has an inside pocket for credit cards, house key and cash. Many colors available.
5. Wood & Tile Dog Breed Coat/Leash Rack. Custom coat and leash rack customized to match your home's décor. Hundreds of breeds to choose.
6. Dog Breed Car Floor Mats. Take your dog along with you on every car ride by having your own all weather, non-skid rubber-backed breed car/floor mat designed from original watercolors.
7. Sterling Silver Pet ID Tags. Guitar pick pet ID tags are perfect for your rockin' doggie. Finished with a steel tempered split ring and polished to a brilliant shine, this pet ID tag is engraveable and made with .925 sterling silver.
8. Pearls From the Bridge. For every pet lover who loves a four-legged fur friend or has known the love of one who has passed, this bracelet in soft pastel colors of the rainbow bridge.
9. Rectangular Dog Breed Cutting Boards. Custom-design your Dog Cutting Board. You choose your dog breed & background.
10. Doggie - and Kitty Hanukkah Cat and Owner Gift and Christmas Pet and Pet Parent Gift Boxes for the holidays. Check out these holiday gift baskets wrapped in ribbons and bows and filled with goodies and gifts for dogs, cats, and their pet parents.
About Paws4Claws
Paws4Claws is an online specialty retailer that sells gifts, gear, gourmet and goodies 4 pets and their humans. The company donates 10% of profits to animal and people charities. Karen and Wayne Barnett, married entrepreneurs, and parents of two humans and three fur children; founded Paws4Claws at the height of the economic downturn driven by their love for animals, entrepreneurial spirit and passion for philanthropy.