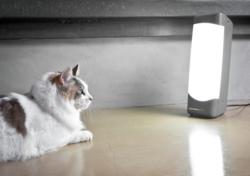 This light therapy device delivers the equivalent of a sunny day
Portland, OR (PRWEB) November 29, 2012
Fab, the design focused e-commerce site, has received loads of press lately for its extraordinary growth. Since its launch in June 2011, Fab has attracted over 6 million members making it the fastest growing e-commerce site on the web.
Every day, Fab features unique products from a variety of designers. Selling everything from kitchenware to custom motorcycles, there is no category left untouched by fabulous design.
This week pet lovers got a glimpse at what could be a revolutionary device for dogs and cats everywhere. The site featured Sol Box Simulated Sun, creation of Portland based Pawsitive Lighting. The Sol Box is the first and only light box designed to treat cats and dogs suffering from seasonal affective disorder, or as Fab put it, a big, furry downer.
"Is your four-legged friend moody? Lethargic? A big, furry downer? Have you considered whether his mood correlates to how much sun he gets? Like humans, dogs and cats can be beneficially affected by sunlight, but as the seasons change, their exposure can diminish. But instead of booking a doggie-and-me trip to Bermuda, try out the Sol Box Simulated Sun. This light therapy device delivers the equivalent of a sunny day. You might just find that Fido's energy increases, he's less anxious, and he can sleep more soundly. Soon he'll be barking Here Comes The Sun."
Not only does it look great, but it has got the credentials to match. The light puts out a powerful 10,000 lux of full spectrum light, which is the required strength to have medical benefit. When the light strikes the animals retina, it triggers the brain to release serotonin, which is the "feel good" chemical responsible for mood and temperament. The Sol Box works as a natural antidepressant by simulating the suns beneficial role and giving pets pep, even in the winter.
One of the best aspects of Fab is the designer blurbs that help buyers get to know the brand. Often, the products have a captivating story making them all the more human, Pawsitive Lighting is no different. As this particular blurb noted.
"Max Marvin, Founder of Pawsitive Lighting, had an interesting observation when he began light therapy treatment—he discovered his dog Luke savored the light just as much as he did. This inspired him to treat all furballs craving more light, and the mood-enhancing Sol Box Simulated Sun was born."
After learning that veterinarians were prescribing Prozac to tackle the winter blues, Max knew that he could provide a holistic alternative. Instead of dangerous pharmaceuticals he would treat them with light!
The Sol Box retails for $199, is made in the UK, and will begin shipping next week. Whatever the price, you can bet Pawsitive Lighting will be popping up in cloudy cities all across the country.