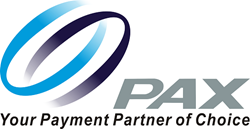 Not all P2PE solutions are created equal
JACKSONVILLE, Fla. (PRWEB) March 04, 2019
PAX Technology Inc., a leading global provider of electronic payment solutions, Bluefin, the leader in payment security, and Casio, a leading manufacturer of electronic cash registers and POS equipment today announced a new semi-integrated solution that simplifies the management of Payment Card Industry (PCI)-validated Point-to-Point Encryption (P2PE) at a merchant's location.
The new PAX, Bluefin and Casio P2PE solution secures credit and debit card transactions by encrypting all data within the PAX terminal, preventing clear-text cardholder data from being visible in the merchant's system where exposure to hacking is possible. Data decryption always occurs offsite in a Bluefin hardware security module (HSM), ensuring the highest level of security for the merchant's cardholder data.
Combined with Bluefin's proprietary decryption system, Decryptx®, the PAX semi-integrated solution is the most successful semi-integrated solution, supported by thousands of Value-Added Resellers (VARs) and Integrated Software Vendors (ISVs) in the U.S. It is widely certified with all major processers and gateways in North America, offering ISVs, VARs and their respective customers a secure method for accepting payments, including magnetic stripe, EMV, NFC contactless and QR code payments. Fully certified through all major card brands, this easy-to-implement solution seamlessly integrates with point-of-sale (POS) devices, eliminating the need to go through the lengthy and often painstaking process of EMV certification.
Casio cash registers and POS terminals have been a staple item for many small and medium-sized businesses since the beginning of electronic payments, available through its extensive dealer network across the nation and through major big box retailers. With the recently launched FREE CASIO CONNECT App for Android and iOS smart phones, Casio's cash registers offer single and multi-store owners the ability to view sales remotely in order to evaluate and make instant operation decisions. Coupled with PAX's S300 payment terminal, merchants can have a secure, cost-effective, semi-integrated solution connected to their cash register(s) for electronic payment transactions and their management system.
"Security is paramount to any merchant. Our close partnership with PAX and Casio allows us to provide a variety of PCI-validated P2PE solutions that are also equipped to accept EMV transactions," said Greg Cornwell, head of global sales, Bluefin. "Our P2PE solutions that have been developed with PAX not only reduce the cost and time required for managing transaction processing, but also provide advanced security features to guard against credit card fraud."
PAX's products are validated for the PCI P2PE v2.0 standard and designed for VARs and ISVs, who place a high value on ease of use, security, reliability and PCI compliance, as the solution decouples payment processing from POS software and is validated by PCI to be used as P2PE solution at any merchant's location.
"Not all P2PE solutions are created equal – there are many P2PE solutions on the market but only a few that are PCI-validated. Using a validated P2PE solution from PAX and Bluefin ensures that a merchant's payment data is encrypted properly and securely," said Andy Chau, chief executive officer and president of PAX Technology, Inc. "Merchants, regardless of size, can utilize PAX terminals to ensure the most secure transaction experience."
"Casio has been a long-time integrator with PAX and now Bluefin to offer an all-in-one PCI-validated P2PE solution to our customers," said Larry Sampey, general manager of Casio. "Casio is a trusted partner in the cash register and POS equipment industry, and we want to offer only the best security solutions to our customers."
PAX, Bluefin and Casio recently completed a major implementation at a Top 10 U.S. university stadium. The stadium deployed 250+ units of Casio electronic cash registers and PAX S300 secure payment terminals through Bluefin's P2PE solution.
Bluefin
Danielle Duclos
VP, Marketing
800-675-6573
press@bluefin.com
Casio
Glenn Deal
Sales Development Manager
973-361-5400 Ext. 4452
gdeal@casio.com