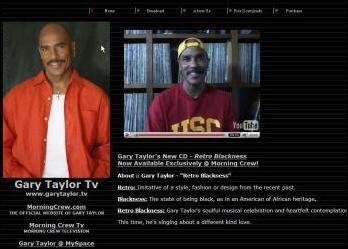 This is the best rollout of a CD that I have ever had, and we have only been working together for just over three months.
Los Angeles, CA (PRWEB) November 20, 2006
In what appears to be a virtual fairy tale, two indie icons, Pax Stereo™ (http://www.myspace.com/paxstereo) and R&B singer/songwriter Gary Taylor (http://www.myspace.com/garytaylorbohemian) have teamed up, and are experiencing what is quickly becoming the internet fantasy of our time; success as an indie label. They say it is all part of the new technology and culture, and that they are another example of the "long tail" phenomenon currently sweeping the business world.
Things are going smoothly for these indie veterans who are used to the harder times of the past. New technologies are making their lives much easier and more productive. Gary Taylor, who has penned hits for R&B legends such as Anita Baker ("Good Love"), The Whispers ("Just Gets Better With Time"), Lalah Hathaway ("I'm Coming Back"), and others, now has some much needed support and some newly evolved means of distribution. But he is most amazed by how quick the response has been in coming from the public. "This is the best rollout of a CD that I have ever had, and we have only been working together for just over three months." Pax Stereo CEO Mario Hemsley enjoys pointing out that "our time has arrived." "For so long the labels had all the advantages, and they still have most of them, but the playing field is a lot more level. Now we can compete. We are more cost-effective, and with innovation and a more personal approach to our fans, we can outperform."
The websites and MySpace pages include many of the current new and evolving innovations that users have available to customize their spaces. These include slideshows, virtual hosts, instant mp3 purchase and download, blogs, and access to artists "friend" networks.
Mario acknowledges the networks and channels aren't complete, but points out that today's fans are concerned with content and not window dressing. "We are ahead of schedule. But even though things aren't totally complete, we decided to show the channels anyway. This way we can get the input of our community. People say if you build it they will come, we are building it while they come."
"You can still listen to music and watch videos, and we are trying hard to give you a regularly updated archive of free videos to download and share. We support peer-to-peer sharing of these files. They were especially created and uploaded for our friends and fans to enjoy and give away to their friends. This is how we are developing our own community as an alternative to the major label approach." Taylor's "Retro Blackness" CD (http://www.myspace.com/garytaylor8) is even now enjoying some rare indie support from radio, including making the play lists at KJLH (Los Angeles), KBLX (Oakland), and WHUR (DC).
As a long time veteran of the trench war with major labels, Gary Taylor, who has walked away from two major label deals, and owns the masters to all of his eight CD releases, this is a breath of fresh air long in coming. "The era of major label strangle-hold on artists is over."
Fans are able to download Gary Taylor's electronic press kit and other vlog postings at his YouTube page (http://www.youtube.com/garytaylortv) and at all the sites that make up his "network." Pax Stereo has taken it one step further, making its entire collection available for free download at the Pax Stereo Broadcast Machine (http://www.paxstereo.tv/bm) until 2007. DVD releases of live performances are also planned for early 2007.
To see a generic view of a Pax Stereo Tv channel, visit The Generic Channel (http://www.genericchannel.tv). For news on the Pax Stereo channels, visit Pax Stereo @ MySpace (http://www.myspace.com/paxstereo). The corporate website for Pax Stereo is Pax Stereo Online (http://www.paxstereo.com). Gary Taylor's label website is Morning Crew Music (http://www.morningcrew.tv).
Contact: Mario Hemsley - Victor Allen (323) 296-6165
# # #