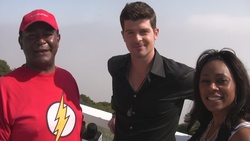 Normally artists of the size and caliber of a Robin Thicke don't take time out for independent Internet television. We want to thank him for choosing us.
Los Angeles, CA (PRWEB) March 20, 2010
In what might appear to be just another mega star video shoot in Malibu, Robin Thicke has ushered in what just might be a new era of independent Internet television acceptance by including upstart pioneer Pax Stereo (http://www.paxstereo.tv) as part of the party at the recent video shoot for his highly anticipated new single, "Sex Therapy: The Experience." Pax Stereo Tv on air personalities Mario Hemsley and Stephanie Raye, along with show producer Victor Allen were given unprecedented opportunity to observe the video shooting and do up-close interviews with the much in-demand R&B artist. "Normally artists of the size and caliber of a Robin Thicke don't take time out for independent Internet television. We want to thank him for choosing us." Stephanie Raye, who heads up the sexy and controversial "Virtually Uncut" was quick to sing his praise. "Even if other unmentioned magazines don't want to feature him, our chat room fans definitely do. He has a huge and growing NeoUrban community out there, and they have much love for Robin and his work. Look for him on our landing page all month long!" Victor Allen points out that this kind of artist support is common in the indie Tv world. "Supporting Robin Thicke doesn't even represent a stretch for us at all. This man has represented R&B very well, with over 40 Grammy winning collaborations to his name. We were excited to be invited."
Pax Stereo has been enjoying increased exposure of late, with interviews of Reverend Jesse Jackson, actress Sanaa Latham, and a plethora of artists including Howard Hewitt, Teena Marie and comedian Luenell who occasionally cohosts on the channel. Previous supporters have included broadcaster/producer Tavis Smiley, who selected Pax Stereo to head up the recent premiere of his movie to the Los Angeles online blogging community, and Mitch Ward, Mayor Pro Tem of Manhattan Beach. But according to the team, the shows were all part of an experimental marketing plan to entice artists into Internet television, and their primary goal was developing and integrating evolving social network opportunities. "We are grateful for the growing support for our original programming, but it is our business-to-business services, such as our Twitter promotions that have our phones ringing." A recent Pax Stereo led promotional twitter campaign for network favorite Teena Marie landed the R&B icon a feature segment on the view. According to VP of Public Relations Danielle Holland who coordinated the twitter promotion this is just the tip of a growing community. "People want to get up close to artists today. We are helping to make this possible, and it seems to be a win win situation for artists and fans. Welcome to the nu new!"
Pax Stereo has embraced artists from all over the musical spectrum and has recently featured Los Angeles local artists such as Taylor McCluskey and Switchblade Kitty, along with others including Grammy winning R&B icon Teena Marie and jazz great Harvey Mason. Pax Stereo has also recently taken up the cause of video takedown abuse, and has launched Death To DMCA (http://www.deathtodmca.com) to combat abuses of the Digital Millennium Copyright Act. Such recent DMCA abuses have led to a YouTube lockout of Pax Stereo, leaving representatives without any means of contact with YouTube officials.
For more information, contact Victor Allen or Danielle Holland at Pax Stereo Tv. Business service information is available at Pax Stereo Business Services (http://www.paxstereo.biz).
# # #