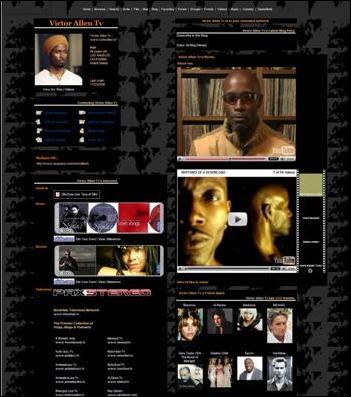 Traditional artists are more concerned with getting every little thing perfect. We have to convince them that it needs to be raw, that it is reality tv.
Los Angeles, CA (PRWEB) November 27, 2006
As newly discovered revenue streams flow to indie labels, they are funding a new "commerce of neoconsciousness." These eclectic and altruistic, constantly changing, artist decorated "neospaces" are, according to Pax Stereo, the basic platform of the new internet television, and the backbone of a growing grassroots industry. This is NOT your parent's MTv, instead the Pax Stereo NeoUrban Tv Network is a "neoskeleton" awaiting the emperor's new clothes.
"The hardest thing so far, is to get the artists to setup their cameras and just jump in. They have to adjust to the whole social networking video phenomenon, and it is an adjustment. We have to show them the way." As the head of Marketing & Promotion in a two-man company, Victor Allen (http://www.myspace.com/victorallentv) is used to adjusting and doing whatever it takes to ease an artists transition to the new internet fan communities. The key, he says, is to stay flexible, and be willing to redefine what you think internet television should be. "Traditional artists are more concerned with getting every little thing perfect. We have to convince them that it needs to be raw, that it is reality tv."
Victor also thinks that artists at first underestimate the commitment required to be successful online, but seem to adjust quickly. "I think the problem is getting used to all the attention that the internet and sites such as MySpace can bring. People just weren't used to this kind of rapid exposure and success. We are getting a lot of emails and invites, and the artists are not used to dealing with this attention personally. But the indie artists are always hungrier, and more willing to work for their fans attention and affection. Mostly we hear from artists who are constantly being touched by the numbers of fans out there they didn't know existed. This is inspiring them to work harder. We are asking the artists to plan on posting vlogs weekly, but many are planning to do much, much more."
A byproduct of their success is that Pax Stereo now has had to start an active search for their own version of today's internet Tv broadcasters. They are actively looking, and are planning to reach out via the internet initially. Victor explains his role as one in transition. "Because I am program director of the channels, and at the moment manage most of the play lists myself, it is my job to identify our next group of broadcasters and individual channel play list managers. I will be working closely with everyone." This is to be a collaborative effort, with opportunities for everyone to share in the rewards generated by their hard work. "They will need to be very motivated and self-sufficient. Most of the people we are looking at are already very active on the web with their own video or podcasts. Almost everyone already has a MySpace page and many have blogs." Victor also knows what it is like to be an artist adjusting to these services, and as Tezman Vic (http://www.myspace.com/tezmanvic), has his own CD available on MySpace and iTunes. He points to R&B icon, Gary Taylor (http://www.myspace.com/garytaylorbohemian), as a shining example of an artist committed to using new technology to reach out and develop a new international fan base. "He is on the web everyday, answering emails and touching his fan base. That is why he is so successful. He is an example to all the other artists who are considering going independent."
Pax Stereo also is offering integrated multisite promotional services for major label artists as well, and is seeing increasing demand as a consultant to design and manage both MySpace profiles and related meganiche channels. "The problem is that we can only handle so many clients outside of our own networks, and we like to keep our services and relationships very close and personal. But we appreciate the attention. We have a lot of experience and expertise, and this is an evolving situation. We understand that you need people who can break the complex issues down, and allow you, the client, to adjust and react quickly. This is Pax Stereo."
For information on becoming a broadcaster with Pax Stereo, contact Victor Allen. To see a generic view of a Pax Stereo Tv channel, visit The Generic Channel (http://www.genericchannel.tv). For news on the Pax Stereo channels, visit Pax Stereo Tv (http://www.paxstereo.tv ). The corporate website for Pax Stereo is Pax Stereo Online (http://www.paxstereo.com).
Contact: Mario Hemsley - Victor Allen (323) 296-6165
###