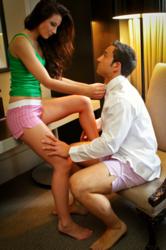 These Are Not Your Daddy's Boxers
Boston, MA (PRWEB) August 21, 2012
New England designer Erin Cormier has arranged a truce not only in the boxers and briefs war, but possibly in the battle of the sexes as well. Erin's chic and sleek new intimate-wear designs for both men and women eliminate the are you really wearing my boxers? tiffs—and they make nobody's backside look big.
Not your Daddy's boxers
"These are for all of the women who have been wearing their husband's or boyfriend's boxers with the waist folded 3 times and sporting a 'bubble-butt'," says Cormier, founder of Paxton 1345. Created with 100% fine Egyptian cotton, these boxer shorts are luxurious and comfortable. They are perfect to wear at any time of the year, whether for stylish lounging on hot summer days or cozying up on chilly winter evenings.
In a bold move away from the ever-present and all-revealing trends in women's undergarments, Erin decided to create a feminine line of comfortable boxer shorts, giving them a folding waistband for the option of wearing them short or elongated. While designing the women's line, she decided to give men the same fitted, streamlined style. Who doesn't want a sleeker form, after all?
Hot and very cool
The cool cotton fabric, vibrant array of color combinations, and a whimsical quote sewn into each pair truly make Paxton 1345 boxers unique. In the Northeast Collection, Paxton's first, Erin names each style after towns and cities in her native New England and the Northeast, such as Nantucket, Vineyard, Newport and Boston. Upcoming lines will reflect the themes and moods of diverse regions across the United States, in the same comfort and style.
Established in 2012, Paxton 1345 is based in Newburyport, MA, and hosts a team of seven consultants. Paxton 1345 fashion, all made in the U.S., is sold online and in various boutiques in New England.