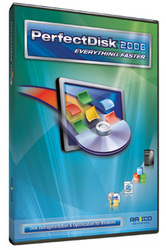 it impacted employees' work badly
Gaithersburg, MD (Vocus) August 6, 2008
Raxco Software, the leader in disk defragmentation software, announced today that Paxton Van Lines, an industry leader serving top corporate companies, has selected PerfectDisk® 2008 as its disk defragmenter. The business value and reasons for switching to PerfectDisk from Diskeeper® are highlighted in a new multimedia video, available at http://www.perfectdisk.com/new/casestudies/paxtoncasestudy.html.
PerfectDisk has helped Paxton achieve its goal of executing flawlessly and providing superior customer service, its number 1 goal. Previously, Paxton had used Diskeeper for disk defragmentation, but "it impacted employees' work badly," said Joe Sartori, IT Director at Paxton. "With PerfectDisk, users never even know it's running. It gives you the largest amount of contiguous free space."
"Paxton is a great example of how a business can better achieve its company goals with PerfectDisk," said Joe Abusamra, vice president of operations at Raxco Software. "It has discovered what thousands of businesses around the world have - all defragmenters are not alike, and PerfectDisk's unique capabilities, such as complete free space consolidation with Space Restoration Technology™, positively impact an organization's bottom line."
About Raxco Software
Raxco Software has been helping large enterprises, small businesses, and consumers with their computer resource management needs for thirty years. Its PerfectDisk 2008 is Windows® Certified by Microsoft® for Vista and Windows Server® 2008, and optimized for Windows XP. The PerfectDisk line has a long award-winning history, most notably its perfect 5-star review from CNET Download, winner of the Windows IT Pro Readers' Choice Awards for Defragmentation Utility and Storage Management Tool, Redmond Magazine's Best of the Best Award, and PC Magazine's Editors' Choice award. Raxco also produces optimization software, for HP's OpenVMS operating system. Raxco Software can be found on the Web at http://www.raxco.com.
Contacts:
Sherry Murray
Raxco Software, Inc
301-519-7836
smurray @ raxco.com
###