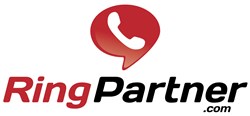 We have already outgrown our current call capacity and we must expand our agreement with RingRevenue to meet our growing needs.
Victoria, BC (PRWEB) August 27, 2013
Ring Partner's pay-per-call affiliate network has grown substantially since its inception in January 2013 and this new partnership will support for further growth and expansion. The updated agreement will enable Ring Partner to increase call volume and commit to rapid but scalable growth, without compromising quality. The explosive growth of mobile has driven rapid growth in the pay-per-call marketing industry, creating new opportunities for advertisers and publishers.
"We have already outgrown our current call capacity and we must expand our agreement with RingRevenue to meet our growing needs," said Mike Williams, Network Manager at Ring Partner. "Our advertisers and publishers are getting great returns on their pay-per-call campaigns and RingRevenue has been instrumental in delivering value to our clients."
"Ring Partner recognizes the power of the inbound call channel and their success is a direct result of their high quality partners and trusted distribution sources," says Eric Holmen, CMO of RingRevenue. "We're pleased to provide the tools that help deliver granular attribution and transparency, to manage and optimize their partnerships while fueling scalable growth."
RingRevenue's call performance marketing platform helps companies like Ring Partner capture and convert customers through pay-per-call marketing, while tracking lead attribution for advertisers and publishers. Their comprehensive tracking and analytics system tracks costs and revenues from mobile, print and other offline media while also improving the performance of online campaigns from traffic sources like search, email and display marketing. With RingRevenue's technology, Ring Partner is poised to continue rapid growth in the pay-per-call sector.
About Ring Partner
Ring Partner is a pay-per-call Performance Marketing Network that delivers high quality calls to top tier advertisers. Ring Partner works with a select group of trusted publishers to provide the best possible calls to advertisers. Founded in Victoria, BC, Ring Partner is led by a team of technology experts with a wealth of experience in lead generation, pay per click marketing, mobile advertising and performance marketing. For more information on Ring Partner visit http://ringpartner.com or sign up as a publisher at http://publishers.ringpartner.com/signup.
About RingRevenue
RingRevenue is the industry-leading provider of inbound call marketing solutions. The cloud-based platform delivers complete campaign management, clear attribution, practical analytics and mobile optimization tools in one easy-to-use solution, while seamlessly integrating with the solutions you already use. RingRevenue helps businesses to get better qualified, higher converting customers and optimize spend across online, offline and mobile marketing channels.
Proven revenue-generating partnerships with leading agencies, Fortune 1000 and Inc 500 brands and advertising networks make RingRevenue the industry-leading solution for inbound call marketing. RingRevenue was founded in 2007 by a team of technology executives who built their prior startup into a multi-hundred million-dollar public company. RingRevenue is backed by leading venture capital firms GRP Partners and Rincon Venture Partners. To request a demo, please visit http://www.ringrevenue.com or call 888-704-5925.