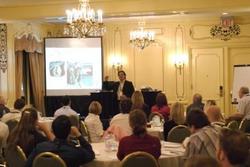 ContextWeb's involvement with PPC Summit demonstrates our commitment to educating marketers about content based advertising opportunities. We were able to introduce the ADSDAQ Ad Exchange's new advertiser self service system to an engaged group of attendees and in a high quality learning environment
Los Angeles, CA (PRWEB) June 5, 2008
Pay Per Click Summit, the premier internet marketing workshop thanks search engine marketing industry leaders who sponsored PPC Summit San Francisco on May 19-20 held at the Marriott Airport. The two day event was entirely focused on internet marketing expert strategies to maximize online sales, and included more than 20 educational sessions covering best practices for online businesses implementing their search engine marketing (SEM) strategy. More than 150 internet marketers and business professionals gathered to learn from expert trainers and network with peers and sponsors including: Microsoft, Business.com, Context Web, Google, Engine Ready and BidHero/Lyris.
"We are delighted with the continued broad show of support from leaders in the search engine marketing industry and would like to extend a special thanks to our sponsors and presenters who were so helpful in sharing their top SEM secrets and strategies," said Mary O'Brien, PPC Summit CEO. "Our attendees walked away with an amazing competitive advantage after learning about the latest solutions, tips and trends provided by our sponsors and expert trainers," explains O'Brien.
Sponsors have the opportunity to meet with a very committed group of participants who are eager to learn about SEM solutions and technologies. "ContextWeb's involvement with PPC Summit demonstrates our commitment to educating marketers about content based advertising opportunities. We were able to introduce the ADSDAQ Ad Exchange's new advertiser self service system to an engaged group of attendees and in a high quality learning environment,"said Jay Sears, EVP, Strategic Products & Business Development of ContextWeb, Inc. and its ADSDAQ Ad Exchange.
PPC Summit is a one-stop shop for online businesses looking to improve their search marketing return on investment (ROI). It's the ideal educational venue to learn, network, share ideas and gain a greater understanding of search engine marketing developments and best practices. The workshop presents internet marketing specialists speaking on how to increase profits with pay per click (ppc) and other online advertising strategies. Sessions cover all aspects of managing ppc advertising campaigns--quality score, keyword strategies, web sites and landing page design, search engine optimization (SEO), analytic reporting, click fraud and other hot topics.
The next Pay Per Click (PPC) Summit is coming to Los Angeles September 25-26. Attendees should register early as these workshops sell out fast and a limited number of participants are invited. For more information, please go to http://www.ppcsummit.com/overview.html?PRW9.
Contact:
Kelly Larsen
Marketing Manager
PPC Summit
(360) 554-9683 ext. 707
###