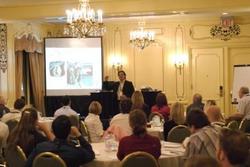 Los Angeles, CA (PRWEB) September 4, 2008
Pay Per Click (PPC) Summit , leading Search Engine Marketing (SEM) Conference, today announced the expert industry speakers and trainers who will present SEM and PPC strategies at the Los Angeles Omni Hotel on Sept. 25-26, 2008. PPC Summit has also extended the $200 early bird rate until Sept. 18 for full conference pass registrations. The two-day event is drawing online business promoters from around the world who want to learn how to increase their search marketing campaign return on investment. The PPC Summit speakers will share best practices and tips on how to take PPC campaigns to the next level.
Featuring world renowned industry speakers and more than 20 educational sessions, the event is predicted to be larger and better attended than ever before. Pay Per Click Summit continues to be the industry event for Search Engine Marketers. The speaker line-up for the event includes experts who have years of experience managing successful campaigns on Google Adwords, Yahoo! Search Marketing, Microsoft adCenter and the smaller engines!
PPC Summit LA Speakers Line-Up Includes:
Tim Ash - SiteTuners, Bill Barnes - Enquiro Search Solutions, Derek Brinkman - Context Web, Mark Evans - Ionic Media Group, Daryl Michalik - Lyris, Ben Hanna - Business.com, Mary Huffman - Ionic Media Group, Brian Lewis - Engine Ready, Heather Lutze - Lutze Consulting, Jason Miller - Engine Ready, Mary O'Brien - PPC Summit, Jamie Smith - Engine Ready, David Szetela - Clix Marketing, Chris Upkes - Adapt Technologies and more.
PPC Summit LA will connect online business promoters with SEM experts during two days of hands-on workshops, networking with industry insiders, one-on-one consulting, peer-to-peer collaboration and on-site labs all focused on strategies to gain immediate online sales results. Attendees will learn the tools necessary to increase their profits with Pay Per Click advertising during sessions covering: customer conversion factors, improving quality score, keyword development, website and landing page best practices, better bid management, click fraud and many other industry hot topics.
Registration is open to anyone interested in increasing their online sales with Search Engine Marketing (SEM) and Pay Per Click (PPC) advertising (event runs from 8:00 a.m.- 5:00 p.m. Sept. 25 - 26, 2008 at the Omni Hotel Los Angeles).
All interested participants can register online at http://www.ppcsummit.com/overview.html?sp1 by the early bird date Sept. 18 to save $200 off registration. Please register early as space is limited and seats are filling up fast.
Contact:
press(at)ppcsummit.com
(360) 554-9683 ext. 707
Pay Per Click Summit
PPCSummit.com
More Clicks. Higher Conversions. Insider Secrets.
###