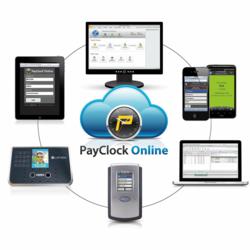 PayClock Online makes us more efficient, more accurate and saves both employees and managers time. It helps with government records, workmen's compensation and transferring departments. Also, everything works seamlessly with QuickBooks. - Phelia Smith
Atlanta, GA (PRWEB) January 10, 2013
Lathem, the leading designer and manufacturer of time and attendance products for small businesses, today announced the launch of PayClock Online, a cloud-based time and attendance system that lets managers prepare payroll anytime, anywhere, providing an efficient and economical time and attendance solution for small businesses. Subscription fees start at just $20.00 per month.
Key benefits of Lathem's PayClock Online include:

Administrative users can access and edit data and run reports anytime, anywhere via the web
Free mobile access for employees and supervisors from smartphones and tablets
Securely hosted by Lathem so there is no software to install or maintain
Subscription-based service so businesses can pay as they go and only for what they need
Support for multiple locations, multiple users and multiple time clocks
With PayClock Online, employers have full access to the same functionality as comparable desktop systems and more from any internet-connected computer. Employees can clock in and out, track their time, and view time card totals and benefit information with free mobile access from iPhone, Android and Windows smart phones. A new Windows 8 application, PayClock Online Punch, is also available in the Windows Store. In addition to mobile access for employees and supervisors, PayClock Online works seamlessly with Lathem's popular time clocks, including the PC600 Series touchscreen and badge terminals and the FaceIN Series of biometric face recognition terminals. This wide variety of time collection options allows employers to manage all of their employees no matter where they are located, or how they work.
"PayClock Online offers important advantages over desktop-based systems for small businesses," said Lance Whipple, Lathem's vice president, Sales & Marketing. "The solution allows business owners to manage time and attendance remotely, making these back-office functions more efficient and easy. Management can also allow employees the ability to check their time and attendance whenever they want, from any smartphone or computer with an internet connection. The bottom line is that PayClock Online reduces administrative distractions and lets small business owners focus on running their core business."
The primary reason employers purchase a time clock is time theft, according to Lathem. Late arrivals, early departures, long breaks, and so-called buddy punching, when employees clock in or out for a co-worker, can cost a company hundreds of thousands of lost payroll dollars. Another purchase driver is payroll pain, the process of calculating time by hand, which can be time consuming and leads to errors due to manual calculation. PayClock Online solves both problems by providing fool-proof employee accountability, and anytime, anywhere access to real-time calculation of payable hours, including overtime and benefit time.
For more than 90 years, Lathem has built a reputation of providing unparalleled support to its customers. PayClock Online is no exception, and is the latest evolution of Lathem's groundbreaking PayClock product line. More than 100,000 small businesses have used Lathem's PayClock desktop software and terminals for managing time and attendance. Now, PayClock Online provides those existing customers a seamless path from the desktop to the cloud, with a simple 1-click upgrade, allowing them to keep their existing time clock, retain their data, and keep the same familiar look and feel of their current software after moving online.
Farmington, N.M.-based, Antelope Sales & Service, Inc., now uses PayClock Online for its employees who spend hours in the field servicing wellheads and pipelines in four nearby states. Phelia Smith, company office manager, said, "Before PayClock Online, our workers in the field were clocking in by texting me when they left for a job site, sometimes at 2:00 a.m. The next day I'd manually enter their time into our system. We needed a better way to track time records than texting in the middle of the night!" Smith added, "PayClock Online makes us more efficient, more accurate and saves both employees and managers time. It helps with government records, workmen's compensation and transferring departments. Also, everything works seamlessly with QuickBooks."
PayClock Online is backed by Lathem's industry-leading 6-Point Assurance Program™. These benefits include:

Free live US-based telephone setup assistance
Free online remote setup assistance
30 day money-back guarantee
One year hardware warranty with advance replacement
No-hassle Lathem Product Exchange Program™
Lathem Trade-Up Program™ provides credit to new technology
About Lathem
Headquartered in Atlanta, Ga., Lathem is the world's leading provider of durable, quality time and attendance products for small business. Founded in 1919, Lathem remains a family-owned and operated US manufacturer. More than 300,000 companies worldwide use a Lathem time clock every day to help manage their business. Lathem's relentless dedication to world class support and total customer satisfaction is backed by its industry leading Lathem 6-Point Assurance Program™. More information about Lathem products and services can be found online at http://www.lathem.com.