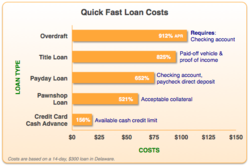 Our goal is to help consumers make an informed decision when choosing a quick fast loan.
New York, NY (PRWEB) May 02, 2012
Alison Lin and Con Way Ling, The Payday Hound Co-founders, announced today the release of their quick fast loans comparative analysis.
The purpose of The Payday Hound's study is to help consumers find the best choice for a quick fast loan. First, it identifies five types of quick fast loans or loans that provide cash in less than 24 hours and can be repaid in 14 days. Next, it analyzes these types of loans based on costs and lender requirements. Finally, it reviews each loan option relative to a consumer's situation. With multiple loan types, varying disclosure information, and different consumer needs, it can be very difficult for consumers to determine what is the best loan choice for them.
"Our goal is to help consumers make an informed decision when choosing a quick fast loan. We want them to know what loan option is best for them based on their unique needs, so they can save money and avoid debt pile ups, or even losing grandmother's wedding ring," says Lin.
For its comparison, The Payday Hound analyzed credit card cash advances, pawn loans, payday loans, title loans, and checking account overdrafts. The Payday Hound took the interest rates and/or fees for each of the five quick loan options and standardized the total costs to a 14-day loan for a side-by-side comparison of each option. Its comparison shows that on a cost basis, overdrawing checking accounts is the most expensive option and taking out a cash advance with a credit card is the least expensive. It next analyzed the best loan options for consumers based on lender requirements for each option. For instance, pawn loans require acceptable collateral and title loans require ownership of a paid-off vehicle. If a consumer does not meet these requirements, they will not qualify for these loan types.
Lastly and most importantly, to make the study relevant to consumers looking for quick fast loans, The Payday Hound reviewed the best loan types for each consumer based on a combination of costs, qualifications, and consumer needs. For example, in a scenario where a consumer needs $300 in 24 hours, does not have acceptable collateral, and does not have available cash credit limit on his or her credit card, the consumer's two options are either a payday loan or to overdraw his or her checking account. More specifically, if the $300 is needed for more than five days, The Payday Hound's study finds the best option is to take out a payday loan, as the costs for overdrafts after five days is up to 33% higher at $105 versus $75 for a payday loan.
In sum, The Payday Hound's quick fast loans analysis is designed to help each consumer save money and make the best choice based on his or her individual needs and situation. The full analysis can be found at The Payday Hound Quick Fast Loan Study.
About The Payday Hound
The Payday Hound delivers comprehensive and reliable payday loan rankings and reviews at http://www.thepaydayhound.com, helping users find the best loan. The site aims to review more payday lenders and in greater depth than anyone else on the web. The site launched in 2012 by financial service industry veterans through Contigo Direct LCC, a Nevada corporation.