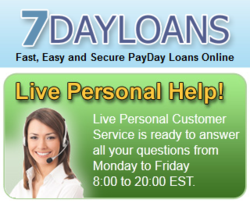 7DayLoans.com allows people to get a cash loan very fast, regardless of their credit history.
(PRWEB) December 31, 2011
Based on its experience with providing online payday loans to numerous customers, 7DayLoans.com's management has made a decision to increase its customer support team and extend the operating hours to provide even better live support to its clients.
Payday loans online gained their popularity during the recent years mainly due to the simplicity of the process. Online application does not require personal presence or any paperwork, there is no need to fax anything, since the loan application and all transactions (as well as the direct deposit of the money to the customers' bank accounts) are done online and over the toll-free phone.
Being in the vanguard of payday loan providers online, 7DayLoans.com quickly reacts to the needs of its customers. Utilizing the modern technologies and automating the money lending process as much as possible, 7DayLoans.com allows people to get a cash loan very fast, regardless of their credit history. Customers are allowed to renew their loans without any delays, while enjoying confidentiality and utmost discretion, from the comfort and privacy of their homes.
About 7DayLoans.com
7DayLoans.com is the leading provider of payday loans online (also known as paycheck advances) – short term loans or "loans till payday". Utilizing modern technologies, its customers have an access to the funds online, without a need to fill in long forms, deal with paperwork or having a good credit history. All online transactions are absolutely secure; customer information is encrypted and stored in a secure location.
At 7DayLoans.com, loan application process is very simple and is done online (or over the phone), letting people get cash fast without leaving the privacy of their homes. Because 7DayLoans.com is a direct lender of the cash advances, successful applicants are usually having their funds deposited directly to their bank accounts within 24 hours upon the approval of their application.
For more information on payday loans please visit http://www.7DayLoans.com.
###