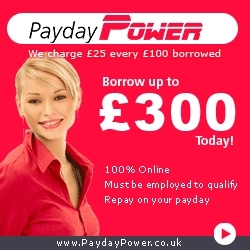 London, UK (PRWEB) April 2, 2009
Payday Power's newly updated website Payday Power is now able to offer an even better service to anyone who requires a payday loan or a cash advance very fast. This new service will save customers a tremendous amount of time and hassle thanks to the fact that an application is going to be sent for approval to more than just one provider, giving customers a greater chance of success in securing that so much needed payday loan.
This is not only a much faster way of sorting out any temporary cash shortfall, but it is also far more convenient. Customers will avoid all the hassle associated with visiting, researching and applying through other payday loans providers, one by one, until they are successful. In case a payday loan application is still unsuccessful, the site will be able to suggest a different solution. For example it will offer applicants advice on how to obtain a cash advance against their car.
In the current economic climate everyone is more likely to become strapped for cash at some point and payday loans can be a short term, convenient solution to cover utility bills, rent, emergencies, in fact anything at all!
Simply visit:
It is very important that customers are provided with the very best payday loan service.
Payday Power is constantly working on improving its website facilities and finding new ways of making an application as quickly and simply as possible. Payday Power is proud to be able to offer this improved and fast service to anyone who finds themselves in need of extra cash fast.
The Payday Power rules, terms and conditions remain the same; a first time applicant may borrow up to £300 and an existing customer up to £750. The only thing that has changed is the success rates of our applications, which is now higher than ever before.
So as long as applicants are over 18 years old, employed full time, have a valid debit card and take home more than £750 per month, they can apply online at:
Payday Power Online Application
Payday Power can guarantee confidential processing, a fast online application and excellent customer service. Once our customers are approved, money may be with them as quickly as the very same day (depending on their bank).
Payday Power is part of Reset Finance which provides various financial services to people with money problems.
Their main website is Reset Finance where customers can find potential solutions to various money worries, including practical debt help:
###