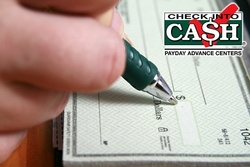 balances consumers' interests with those of the industry.
CLEVELAND, Tenn. (PRWEB) October 27, 2008
Check Into Cash, a national Cash Advance company headquartered in Cleveland, Tennessee, along with other Payday Loan providers, has adopted a set of Payday Loan standards that is very pro-consumer and which "balances consumers' interests with those of the industry."
In addition to adopting such a policy, Check Into Cash has recently begun to offer services beyond traditional short-term cash loan or cash advance services, with the goal of providing alternatives to aggressive "payday loan alternatives" such as bank and credit union overdraft fees. Among the emerging services offered by companies like Check Into Cash are reloadable cards, online bill pay, and online payday loans. Ultimately, by taking advantage of these services, consumers may avoid paying even more expensive fees charged by consumer service providers for late payments and reconnect charges by assuming a short-term cash loan.
When financial options are limited by the constraints of a tight economy, payday cash advance lenders like Check Into Cash may offer a viable alternative to incurring further charges, which ultimately affect consumers' household budgets.
For more information about payday advance providers who have adopted pro-consumer standards, visit the Community Financial Services Association of America at http://www.cfsa.net.
MULTIMEDIA GALLERY http://www.businesswire.com/cgi-bin/mmg.cgi?eid=5814000