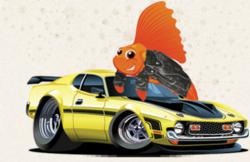 I'd get around the hotel holds policy by paying with a credit card, and then very quickly transferring the money from my checking account to pay off what I just charged to the credit card.
Detroit, MI (PRWEB) July 02, 2012
RoadFish.com men's lifestyle and finance magazine today offered some tips and suggestions to go along with a recent Detroit Free Press article, which shined a light on the negative side effects of using a debit card as the sole source of payment when traveling this summer.
Susan Trompor of the Detroit Free Press reported that a growing trend this summer is to stick to using a debit card instead of turning to credit as a way to curtail racking up debt, and to keep to a hard and fast budget. However Trompor warns that debit cards come with certain drawbacks, especially for vacationing purposes. Her article states that many hotels are in the habit of putting holds onto accounts that are being paid with debit versus credit. For example, the Chicago Marriott is quoted as having a $50 hold per night policy on all transactions made with debit cards. So in addition to room and tax charges, someone paying with a debit card would incur a $50 hold per night, which would appear on a bank statement as being a $50 per night withdrawal.
In her article, Trompor points out that this is not an unusual policy, and some hotels hold up to 120% of the room fee plus tax and the hold may be in place for up to seven days, sometimes longer. Of course the worst-case scenario is that the card gets overdrawn due to the significant holding fees, and the money is not replaced for a full week. Bank overdrafts won't affect someone's credit score, if they're taken care of soon after (unpaid overdraft fees on the other hand may be cause for collection agency action, and would definitely affect someone's score for up to seven years.) But either way you spin it, hotel holds can cause a financial nuisance for an unsuspecting traveler.
RoadFish.com is an advocate of paying with a credit card to avoid the holds, then soon thereafter paying the balance off before the due date. RoadFish.com's Senior staff writer is quoted as saying, "I'd get around the hotel holds policy by paying with a credit card, and then very quickly transferring the money from my checking account to pay off what I just charged to the credit card. No interest builds up that way, you are still paying through debit in a sense—because you're making the transaction so quickly—and these days you can even do it on your phone without ever having to set foot in a bank."
The above-mentioned Detroit Free Press article also warns about theft on the road, if the card number stolen is that of the traveler's lone source of cash during the trip. According to Trompor, card numbers can be stolen wherever and whenever you hand your card over to another person—such as in a restaurant or a fast-food drive through. Thieves can even install card readers in certain ATMs, which will capture card information that they will then use to make purchases. RoadFish.com points out that any card, credit or debit, can have numbers stolen and be run fraudulently. RoadFish.com's Senior staff writer stated, "I've had my credit card numbers stolen, and used in another state to purchase some really strange things. When I discovered the fraudulent charges, I checked my wallet and sure enough, my credit card was still tucked neatly inside. The thief had simply stolen the numbers." Trompor cautions travelers against having only a debit card as a source of cash, just in case your checking account gets wiped out by a thief and the money cannot be replaced by your bank quickly enough.
RoadFish.com also points out the perks to using a credit card to rack up certain rewards. RoadFish.com's Senior staff writer is quoted as saying, "My credit card comes with a points system where I accrue one point for every dollar spent. I can later redeem the points for cash rewards, plane tickets, gift cards, just about anything. My debit card, however, doesn't currently have any sort of points system attached to it. So to take advantage of getting the rewards, I will pay with my credit card, and then almost immediately pay off my recent charge. I have a smart phone and I've downloaded my bank's app right onto it, so I can literally make the transfer as soon as the charge posts. It's a great way to stick to a budget, since you know you'll be paying the charge off in just a day or two, while still getting rewarded."
Some of Trompor's best tips include checking with each hotel you're staying at to find out their hold policy, including how much is held and for how long; bringing a back-up credit card with you if you do decide to stick with debit exclusively while traveling; and to check your bank balance frequently while traveling to keep a close eye out for fraud.
About RoadFish.com
RoadFish.com is an online men's lifestyle and finance magazine targeted toward men in their 30's and 40's that have already attained a moderate level of success in life, and are striving toward more. It goes over current events of interest to this group, such things as exciting adventures, managing personal finances, consumer interests, hot chicks, and domestic travel and tourism as well as ways to make more and save more money. It is a publication owned by Purpose Inc.
# # #