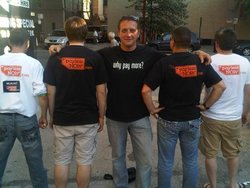 Why pay more? www.paylessnow.com
Chicago, IL (PRWEB) September 30, 2010
Anthony Berg, Managing Director of PayLessNOW, is pleased to announce that the firm is in final stages of preparation to launch its progressive new comprehensive website -- PayLessNOW.com at http://www.paylessnow.com.
October 1st, Chicago will be the premiere city in which this amazing new consumer rewards website will debut. PayLessNow.com will feature exciting restaurant, spa and entertainment deals that consumers have become used to, but will also offer everyday necessities and conveniences like oil changes, electronics, subscriptions and more. Unlike some current discount websites, PayLessNOW will feature not one, but up to three deals a day in hyper-local markets such as downtown Chicago, Near West, the Northshore, etc. The deals will be from different lifestyle categories to ensure variety and to avoid competing with other partnering vendors that day. Plus, at day's end, those deals will not disappear. Buyers will have the opportunity to purchase the deals for an extended period of time.
In addition to the website, customers can download the exclusive PayLessNOW mobile application which allows them to receive deal notices via cellphone. In addition to the regular daily deals, PayLessNOW will also send "Push Card" alerts that are location-based. Customers will have the ability to input specific criteria regarding their personal preferences and depending on their current location, PayLessNOW will notify them to the deals in their present vicinity. The Push Card offers will cost the consumer nothing – serving more as an enticement to visit local establishments. Both Push Card and regular deals can be secured by downloading the certificates to your phone and will be stored along with previously purchased items in your phone's "virtual wallet". This digital approach is much more efficient - eliminating the need to print and then bring vouchers with you for redemption.
According to Berg, "PayLessNow.com will be a broader, more comprehensive and targeted discount program than any other currently serving the consumer market." He also stated, " We're excited to offer our customers the ability to tailor each account according to preferences and location. We think that adds a uniquely personal touch." Over time, PayLessNow is planning to expand into various other U.S. markets to better serve a wider clientele.
PayLessNOW.com is a progressive digital marketing company that offers consumers major discounts on everything useful and cool that you want to do, buy or experience. PaylessNow.com is powered by Performance Driven Advertising via the Internet and its exclusive mobile application and cultivates mutually beneficial relationships between businesses and customers. It creates a high impact, high reward arena with no risk and all gain.
If you are interested in being a featured company or learning more about PAYLESSNOW, visit http://www.paylessnow.com.
PayLessNow will highlight local deals on Restaurants, Spas, Retailers, Etc. for savings of 60% - 95%.
###