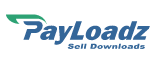 Philadelphia, PA (PRWEB) July 26, 2011
PayLoadz.com continues to lead the digital content self-publishing space with the announcement of $50 million in digital download transactions processed since the company was launched. Transaction volume has also grown to over 4.5 million product transactions processed.
"The growth PayLoadz has shown since inception has been encouraging and is a testament to sound financial and resource management. I'm proud that we have been able to accomplish these levels of volume entirely self-funded," said Shannon Sofield, founder and CEO. We have built a strong product that has proven immensely valuable to our users. I look forward to continuing to innovate in this ever-changing environment."
PayLoadz has traditionally been seller oriented in the presentation of their services. They are preparing to release a destination style shopping portal geared toward content consumers. Mr. Sofield continues: "The new service will service end users directly while improving our ability to help our sellers market their content."
Founded in 2002, PayLoadz.com, Inc continues to operate in a bootstrap startup style operating with a very small development, marketing, and management team. This lean style approach has enabled the system to evolve as many competitors have come and gone; victims of the turbulent online content industry. The company has over 180,000 users and services 6 million customers with their digital good order processing and delivery needs.
For more information, please contact Shannon Sofield at 609-510-3074 or Shannon(dot)Sofield(at)PayLoadz(dot)com.
###