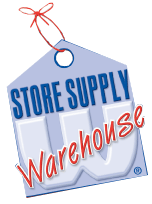 At Store Supply Warehouse, we pride ourselves on making the shopping experience as easy and convenient on our customers as possible.
St. Louis, MO (PRWEB) July 25, 2012
Store Supply Warehouse, a St. Louis based retail supply company, recently added more billing options to its website, providing customers with a variety of options to submit payment. With the recent addition of Bill Me Later and PayPal, Store Supply Warehouse offers customers a variety of secure payment options, allowing them to choose the method that works best for them.
"We understand that purchasing online is a large commitment for some retailers – especially if they are buying larger items such as showcases, mannequins or other store fixtures," says Matt Wohlstadter, President of Store Supply Warehouse. "By adding PayPal and Bill Me Later as payment methods to our already secure system, we feel customers can choose the payment option that work best for them."
PayPal's popular payment service allows customers to make payments and transfer money through a secure user account. Many online shoppers prefer making purchases through PayPal as all of their purchases can be done through their PayPal account. Bill Me Later is a service provided by PayPal, which allows customers to complete orders at checkout then pay the amount owed at a later date.
"At Store Supply Warehouse, we pride ourselves on making the shopping experience as easy and convenient on our customers as possible. We feel that by adding more payment options for customers, they can pay using the method that they feel comfortable with, not only the method we choose for them," adds Wohlstadter.
In addition to the new payment options, Store Supply Warehouse is offering a promotion which allows customers to pay with special financing using Bill Me Later. When customers spend $500 or more using this payment method, they can enjoy no payments and no interest if paid in full within six months. Visit the website for the details of this special offer: http://www.storesupply.com/
About Store Supply Warehouse
Store Supply Warehouse was founded in 1994 in St. Louis, and has since seen immense growth, selling retail fixtures and retail store supplies, including display cases, racks and shelving, shopping bags, hangers, pricing and tagging guns and mannequins. The distribution chain takes pride in its quick transaction process, efficient delivery, and quality customer service. Products are available for purchase through Store Supply's catalog, which is updated and distributed four times a year, or online at http://www.storesupply.com. Same-day shipping is guaranteed on all orders placed before 3 p.m. The company's main office is located at 9801 Page Avenue, St. Louis, Missouri, 63132. Contact Store Supply directly at 800-823-8887 or by email at contactus(at)StoreSupply(dot)com.