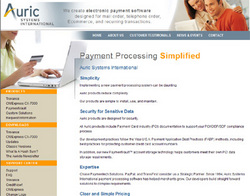 We chose to make this significant gift aimed at the heart of organizations
Peterborough, NH (PRWEB) January 6, 2009
Auric Systems International, a leader in payment processing software, announces a gift for charitable organizations across the United States that will enable even the smallest non-profit organizations to accept online donations securely and conveniently. Auric is donating to all qualified organizations its CN!Express payment processing software program which includes one year of technical support and version upgrades. This gift of user-friendly software enables nonprofits to accept credit card and online donations more efficiently, and helps them reach compliance with Payment Card Industry (PCI) standards for guarding donor credit card information. Organizations with a tax status of 501(c)(3) can apply for this gift during the 2009 calendar year by visiting http://www.AuricSystems.com/Giving09.
"This charitable gesture will enable a higher degree of donation and organization acceptance," stated Auric's CEO Ray Cote. "These are challenging times, we want to make accepting payments easier and secure for organizations."
Auric's CN!Express payment application simplifies the integration and acceptance of credit cards, checks and alternative payments through Chase Paymentech, First National Merchant Solutions, Merchant e-Solutions, TransFirst, eBillme, TenderCard, PayPal, Natural Solutions and NSA Computer Exchange. For organizations with a tax status of 501(c)(3), this gift also helps in meeting compliance standards for the security of credit card information. CN!Express CX-7002 is a leading Visa Payment Application Best Practices (PABP) validated payment application, making it compliant for all credit card brands.
"We chose to make this significant gift aimed at the heart of organizations," stated Director of Business Development John Tourgee. "Our hope is that this donation fuels secure charitable giving across the nation." 501(c)(3) organizations fall into eight major categories: arts, culture and humanities; education and research; environmental and animals; health services; human services; international and foreign affairs; public and societal benefit; and religion.
Headquartered in New Hampshire, Auric Systems International has been producing credit card and payment processing applications since 1994. Our software is deployed in businesses, organizations and nonprofits that range in size from one to 800 operators. Auric pioneered card-not-present payment software. We deliver robust, adaptable, scalable payment processing solutions at reasonable prices. For more information about simplifying your payment processing, visit http://www.AuricSystems.com.
###