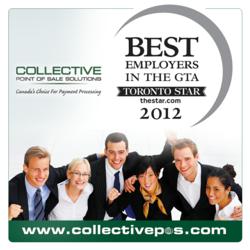 We work exceptionally hard at creating a corporate culture that engages employees, delivers results and is a fun place to come to work every day.
Toronto, ON (PRWEB) November 24, 2011
Collective Point of Sale Solutions has been named to the 2012 Aon Hewitt / Queen's School of Business list of the Best Employers in the Greater Toronto Area. Published today in the Toronto Star, this award recognizes companies with high employee engagement.
"We are immensely proud of our employees, our management team and our company as a whole," said Michael Back, CEO and President of Collective POS. "We work exceptionally hard at creating a corporate culture that engages employees, delivers results and is a fun place to come to work every day."
Collective POS supports employee engagement through promoting exceptional structures for its workers and encourages a hands-on interaction and a dynamic working environment at every level of the organization.
"The real litmus test of whether or not an organization is a Best Employer lies with the employees themselves," said Neil Crawford, Aon Hewitt's study leader. "This study goes beyond satisfaction (how much I like things here) and commitment (how much I want to be here) to measure engagement (how much I want to and actually contribute to improving our business results). Without a focus on engagement, it's difficult for organizations to achieve sustainable success."
Lidia Cords, Manager of Human Resources for Collective POS said, "We are always experimenting with new ideas and looking for ways to take things to the next level. Earning a spot on the 2012 list of the Best Employers in the GTA is a tremendous achievement that we all take great pride in."
About Collective Point of Sale Solutions Ltd.
Collective Point of Sale Solutions Ltd. (Collective POS) is Canada's choice for payment processing and merchant services. Founded in 2001, Collective POS is celebrating its10th anniversary in the merchant services industry.
The company's mission is to provide entrepreneurs and owners of small to medium-sized businesses with affordable, convenient and more customized alternatives to the debit and credit card processing services currently offered by major banks and other payment processors.
Collective POS serves more than 10,000 businesses across Canada, including retail stores, restaurants, hospitality providers, mobile services, e-commerce merchants, mail order/telephone order businesses, professional firms/clinics/practitioners, B2B product/service providers, tradespeople and many other industries.
About Aon Hewitt
Aon Hewitt is the global leader in human capital consulting and outsourcing solutions. The company partners with organizations to solve their most complex benefits, talent and related financial challenges, and improve business performance. Aon Hewitt designs, implements, communicates and administers a wide range of human capital, retirement, investment management, health care, compensation and talent management strategies. With more than 29,000 professionals in 90 countries, Aon Hewitt makes the world a better place to work for clients and their employees. For more information on Aon Hewitt, please visit http://www.aonhewitt.com/canada
About Queen's Centre for Business Venturing (QCBV)
Based at Queen's School of Business, Canada's leading business school, QCBV's mandate is to be the leading and definitive source of knowledge and expertise in the creation, leadership and management of new ventures. Further, it strengthens and helps build Canadian SMEs by focusing its efforts on serving the broader SME community through research, providing advisory services and support, and creating and delivering innovative curriculum. QCBV administers the annual Best Small & Medium Employers in Canada study. We are dedicated to increasing the odds of success for Canadian organizations and their leaders. Please visit http://www.bsmestudycanada.com.
###