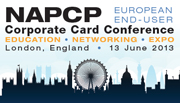 Minnetonka, Minnesota, USA (PRWEB UK) 6 May 2013
Session descriptions for the NAPCP's European Corporate Card End-User Conference, to be held at the Bloomsbury Hotel in London, England, 13 June 2013, are now online at http://www.napcp.org/2013European. This one-day event will offer a variety of engaging formats: breakout session, panel discussion and open roundtable discussions focused on reducing process costs and understanding emerging trends. The conference will be preceded by a two-hour NAPCP European Advisory Meeting on the afternoon of 12 June 2013, in the Chapel at Bloomsbury Hotel.
"The NAPCP European Corporate Card End-User Conference will be essential for individuals who—either directly or indirectly—have a major influence over their organizations' payment strategy and decision-making processes," says Laura Flandrick, NAPCP managing director. Those who will benefit from the planned agenda include CFO level, treasury, accounting, procurement and accounts payable professionals.
Navigating the European Corporate Card Landscape
The opening plenary session hosted by lead sponsor, TSYS, will be presented by Kellie Goodwin, Business Development Director. Goodwin will compare and contrast the distinct payment solution sets available via the Commercial Card platform and take an initial look at emerging trends in the European market. She will also lead a roundtable discussion on mobile payment acceptance for business travelers.
Breakout Sessions Presented by Individuals from Leading Corporates and the Public Sector
Birgit Roeterdink, EMEA Lead—Travel & Card, Global Procurement, MSD—believes that when it comes to purchase-to-pay solutions, one size does not fit all. During her breakout session, Roeterdink will define the criteria organizations can use to determine which payment solutions best align with business goals.
Christopher Rhoades, EMEA SAP Sustainment Lead, The Walt Disney Company, will help attendees navigate VAT compliance and understand how to manage purchases in and outside the European Union.
Managing directors from the NAPCP will moderate an end-user panel discussion aimed at uncovering barriers to success and then driving home the benefits of Commercial Card solutions, how to empower individuals who drive success, and strategies for gaining better spend visibility and control.
Additional speakers slated to discuss benchmarking, key performance metrics and "on-the-ground" challenges with the procurement/payables process are Travis Henderson, Sr. Global Category Manager, Worldwide Indirect Procurement, Lenovo; and Linda Harrower, Purchasing Liaison Manager, University of Cape Town.
For more information, including exhibit, demonstration and sponsorship opportunities, please visit http://www.napcp.org/2013European or contact Laura Flandrick, NAPCP Managing Director, at Laura_Flandrick@napcp.org or telephone +1+952-546-1880 extension 2.
About the NAPCP
The National Association of Purchasing Card Professionals (NAPCP) is a membership-based professional association committed to advancing Commercial Card and payment professionals and industry practices worldwide. The NAPCP is a respected voice in the industry, serving as an impartial resource for members at all experience levels in the public and private sectors. The NAPCP provides unmatched opportunities for continuing education and peer networking through its Annual U.S. Conference, European Conference, Regional Forums, webinars, website, newsletters and weekly communication. The association sponsors research and publishes timely and relevant white papers, survey results and other documents. The NAPCP certifies professionals through the Certified Purchasing Card Professional (CPCP) credential program. Please visit the NAPCP website to learn more about Commercial Card and payment programs in general, the value of membership, current member demographics, upcoming events and benefits of becoming a year-round partner sponsor (http://www.napcp.org).