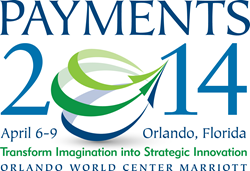 Through PAYMENTS 3D, we are able to provide PAYMENTS 2014 attendees with a 'first look' at some of the latest products and services transforming the industry.
HERNDON, Va. (PRWEB) March 21, 2014
Today, NACHA – The Electronic Payments Association® announced the lineup for PAYMENTS 3D. PAYMENTS 3D, which will be held April 8 during PAYMENTS 2014, provides an opportunity for leading payments innovators to showcase the latest technologies and concepts being developed for the payments industry.
"Payments innovators are challenging the current payments environment and the way we make and receive payments," said Janet O. Estep, president & CEO of NACHA. "Through PAYMENTS 3D, we are able to provide PAYMENTS 2014 attendees with a 'first look' at some of the latest products and services transforming the industry. It's an excellent opportunity to experience first-hand the solutions of tomorrow."
This year, companies selected to participate in PAYMENTS 3D include: ACI Worldwide; Buy It Mobility (BIM) Networks; CardinalCommerce Corporation, Finovera, Inc.; IBM; iMobile3; Narrative Science; Paydiant; Ripple Labs; and Sonavation AXISKEY. Each of these companies will have the opportunity to present their innovations in fast-paced, interactive demonstrations in the PAYMENTS 3D Theater. The PAYMENTS 3D Theater, sponsored by CardinalCommerce Corporation, will be part of the PAYMENTS 2014 Exhibit Hall.
In addition to PAYMENTS 3D, PAYMENTS 2014 will feature powerful general sessions headlined by Kristian Hammond, co-founder and chief scientist of Narrative Science; Gabe Zichermann, founder of Gamification Co and chair of GSummit; and Anat Baron, founder and CEO of StashWall. This year's event will also include 14 pre-conference workshops, and more than 130 educational sessions on topics impacting the payments industry. New this year, attendees will be able to participate in the "Spotlight Speaker Series," a series of sessions on topics influencing the future of payments, and an "Executive Forum," which provides exclusive education and networking opportunities for executive decision makers from financial institutions.
For more information about PAYMENTS 2014 or to register, visit https://payments.nacha.org/.
About PAYMENTS 2014
PAYMENTS 2014, taking place April 6 – 9 at the Orlando World Center Marriott in Orlando, Fl., features more than 130 educational sessions and workshops with renowned speakers from financial institutions, corporations, government agencies, legal and regulatory bodies, consulting and research firms, service providers, and more. Sessions are organized along seven tracks — the ACH Network & the NACHA Operating Rules, Card-Based Opportunities, Compliance, Risk & Fraud Prevention, Corporate Payment Solutions, Mobile & Digital Payments, Payment Strategies and World Payments Viewpoint – to address the topics of pivotal importance to payments professionals. In addition, a dynamic exhibit hall of nearly 100 industry leaders features today's top products and services.
To learn more about PAYMENTS 2014 sessions, workshops, speakers, sponsors, and exhibitors, or to register, visit https://payments.nacha.org.
NACHA — The Electronic Payments Association
NACHA manages the development, administration, and governance of the ACH Network, the backbone for the electronic movement of money and data. The ACH Network provides a safe, secure, and reliable network for direct account-to-account consumer, business, and government payments. Annually, it facilitates billions of Direct Deposit via ACH and Direct Payment via ACH transactions. Used by all types of financial institutions, the ACH Network is governed by the fair and equitable NACHA Operating Rules, which guide risk management and create payment certainty for all participants. As a not-for-profit association, NACHA represents more than 10,000 financial institutions via 16 Regional Payments Associations and direct membership. Through its industry councils and forums, NACHA brings together payments system stakeholders to foster dialogue and innovation to strengthen the ACH Network. To learn more, please visit http://www.nacha.org, http://www.electronicpayments.org, http://www.payitgreen.org, and http://direct.nacha.org.