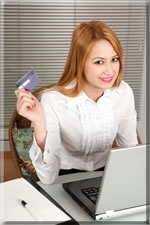 We are proud to be announcing our partnership with PayPal
Boston, MA (PRWEB) October 09, 2012
In recent years, online customers have come to find that credit card fraud is a very real threat. Recognizing this trend and stressing the importance of safety, Instant Criminal Checks decided to partner with PayPal, the popular and secure payment service on the Internet. InstantCriminalChecks.com now gives clients the ability to pay for criminal history checks through PayPal, so that customers can get fast and reliable results while utilizing PayPal as a secure payment option.
PayPal can be a safer and easier way to pay for criminal history checks online for a number of reasons. For starters, PayPal offers a fraud protection policy to all of its users. It helps to protect them in the event of an unauthorized purchase, ensuring that they do not lose money in the event of fraud. In addition, using his/her PayPal account, the customer can either pay via credit card or with your PayPal balance. The customer will not have to enter his/her credit card information on our website.
Using PayPal also saves the customer time because he/she does not have to type in his/her billing and shipping information every time he/she places an order. Customers don't have to continue to create multiple accounts and passwords when they are ordering online. They will be able to keep track of all of their orders and shipments in one quick place, as PayPal will keep track of it for them.
InstantCriminalChecks.com is an online provider of criminal history checks and an SSN verification address history trace. Instant Criminal Checks provides the information a client needs to make informed decisions related to hiring future employees. When a customer places an order for a criminal history background check, the process is completed digitally and within seconds of an order being placed. This means that our clients get the results they need quickly — literally within just seconds of placing a request for a criminal history check.
InstantCriminalChecks.com strives to provide customers with the best data coupled with the easiest ordering process. With this goal in mind, the company is proud to be announcing a partnership with PayPal and providing another option for customers to place the orders they need.
About Instant Criminal Checks
InstantCriminalChecks.com offers background checks for employment screening that range anywhere from $15 to $60, giving you the affordable options that you need. Whether you need a state criminal history check or a national criminal history check, InstantCriminalChecks.com is equipped to provide you the information you need in only seconds. For more information about ordering criminal background checks, visit the website at http://www.InstantCriminalChecks.com.