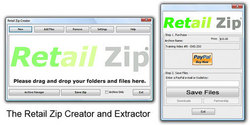 Retail Zip can convert any internet location into a digital store and deliver 300GB as an e-mail attachment
New York, NY (PRWEB) January 7, 2009
The Retail Zip Company has announced the release of the Retail Zip® Format-as-a-Service (FaaS)™ for Windows and Mac OS X computer systems.
Retail Zip is a turn-key ecommerce powered zip format that combines the familiar user interface of a zip program with built-in online storage from Amazon Web Services and a PayPal shopping cart. Unlike other zip formats that archive data on a hard drive inside a compressed container, Retail Zip archives uncompressed data onto secure online servers located in USA or Europe, reducing the zip file size to less than 1 kilobyte per package.
E-Commerce is embedded for 18 currencies with PayPal, allowing sellers to charge buyers for the privilege to extract digital goods. Extending the power of the payment system is a patented enhancement that can divide the sum of a payment to multiple partners and affiliates at the point-of-sale of a transaction.
Until now, setting up digital products on web servers designed to handle millions of downloads was an expensive and confusing task for sellers looking for a PayPal alternative to iTunes. By integrating the cloud infrastructure of Amazon Web Services, sellers can handle an unlimited amount of simultaneous sales with automatic scaling unlimited bandwidth.
To create a bridge between online content delivery and physical retail, the format utilizes the KodeKey Password System. KodeKeys are unique pin codes that can be generated and assigned to Retail Zip packages for digital distribution with Variable Data Print (VDP) media, such as paper inserts, flyers, and plastic gift cards.
As a music business initiative, the company is promoting the option for performing artists to distribute music as an accessory to a concert ticket or to establish KodeKey deals with major car dealers that will trade the latest music with potential buyers for a test drive.
A secondary zip format, without e-commerce, is included for professionals that need to archive and share large amounts of data. While some browser-based services offer free file sharing, downloading files from landing pages can become an offensive experience due to unsolicited adult material used for monetization. By providing a desktop solution to manage data uploads and downloads, Retail Zip allows users to retain the privacy of a data transfer session, while removing the threat of broken downloads due to website failures.
Optionally, the format can create super strong 1,344,000-bit password certificates called KKEYCERT to add additional access protection for content owners that need to share and sell private data. For users seeking forensic archiving, the format preserves all original date creation time-stamps, which is a feature targeted for the legal, government, and scientific data preservation industry.
Retail Zip seek to establish a connection with publishers of DVD, Blu-Ray, and Digital Cinema. Using the DDP, CMF, and MXF specifications, Retail Zip has been tested and approved for up to 1TB of single file archiving validated by rigorous 12-mode hash string calculation certification.
"Retail Zip can convert any internet location into a digital store and deliver 300GB as an e-mail attachment," says inventor and Chairman William G. Blanchard, "Let's say a user performs a Google search for a popular movie. When the search results are shown, the user can see a sponsored link from the movie studio for a Retail Zip of the burnable DVD. The user clicks the link and instantly purchases the download within seconds without redirection from the landing page. We can instantly power message boards, social networks, and search engines to become digital stores capable of selling gigabytes of data through a simple URL. We are not talking about delivering this power in five years, this is possible right now."
Features:

Get started with a PayPal account
Password generator for download retail cards
Split payments with band members
Built-in affiliate system
Secondary zip format included for professionals (without ecommerce)
Partnership with trusted industry leaders PayPal and Amazon Web Services
More information about the Retail Zip system can be found at http://www.retailzip.com
###