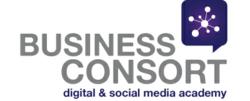 70% of transactions originate from a search engine - Is your business being found?
(PRWEB UK) 4 October 2012
Business Consort launches a series of new digital and social media training courses this October.
These innovative courses are Fast Track Lead Generation and Selling Online, Boosting Brand and Reputation in a Digital World and lastly Online Advertising, Digital Campaign Management and Analysis.
With 95% of digital campaigns fail due to lack of knowledge, resources and strategy so with this in mind - Business Consort the forward thinking training academy bridges this gap and helps businesses excel in the Digital World.
The courses cover all the key elements required to market a business effectively online incluidng Pay Per Click (PPC) advertising could dramatically increase traffic to websites.
However, it is important to realise that these potential advantages only come with a skilfully implemented and managed PPC campaign.
Poor planning and management could see businesses accruing costs without any increase in sales.
PPC advertising delivers immediate results, unlike Search Engine Optimisation (SEO) campaigns. While an SEO campaign will ultimately produce more website visitors at a lower cost, it could be months or years before the full benefit is seen.
If there is a need to generate online revenue immediately, then a PPC campaign should form a key component of the company Internet Marketing strategy.
Key Benefits - Watch Dawn McGruer FRSA's Digital and Social Media tips video filmed at The Telegraph
It's incredibly flexible. Add, modify and delete keywords based on current market conditions or consumer reactions.
It provides an instant Return on Investment (ROI), particularly if the website processes sales/business online.
It's a fast method to generate traffic and response for sites.
It's relatively inexpensive compared with other advertising media.
It's great for short-term campaigns.
It allows the advertiser to change the copy of the adds with the change of keywords.
Analysts predict that UK PPC advertising is forecast to total £3 billion in 2012 and here at Business Consort we know Google Adwords are growing at 15% per annum and the cost of key positions on Google is rising so can businesses afford not to fully understand the crucial disciplines of PPC?
Business Consort train businesses in all aspects of digital and social media marketing as this is a crucial part of every business due to the fact that 70% of all transactions originate from a search engine so if a business isn't visible then they will without doubt be losing out on revenue.
They have written a FREE Digital and Social Media Marketing Guide to help businesses on their way which is available for immediate download.
Business Consort - The Digital and Social Media academy has already trained thousands of businesses and are proud to be a Chartered Institute of Marketing accredited study centre. Simply visit http://www.thesocialmediaacademy.org to see their full list of courses.