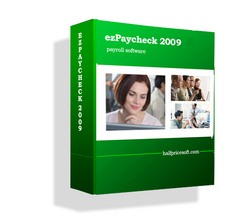 We intentionally engineered this software for those end-users who are not professional accountants and payroll tax experts
Louisville, KY (PRWEB) March 3, 2009
After the stimulus package passed by Congress and signed last week by President Obama, which contains a number of tax breaks aimed at the middle class and small businesses, the Internal Revenue Service released new withholding tables. The new tables incorporate the new Making Work Pay credit, one of the key tax provisions included in the American Recovery and Reinvestment Act of 2009, and will result in more take-home pay this spring for millions of American workers.
The IRS asks that employers start using these new tables as soon as possible but not later than April 1.
Halfpricesoft.com has updated the 2009 tax withholding tables on stimulus package for ezPaycheck payroll software. ezPaycheck version 2.5.2 or later comes with the latest 2009 tax withholding tables. If user is using an old version, user can update ezPaycheck tax tables by downloading the latest ezPaycheck 2009 update package. This update package is totally free for current ezPaycheck 2009 users.
This new update package is available for free download from:
http://www.halfpricesoft.com/payroll_software_update_2009.asp
User can check the current version by clicking "help" top menu on ezPaycheck application, then "About ezPaycheck".
Halfpricesoft.com also sent out email newsletter to remind users to update the payroll software in time. Most workers will see a boost in their take-home pay soon thereafter.
About ezPaycheck Payroll Software
ezPaycheck is loaded with intelligent, intuitive features but not burdened by complicated suites of expensive applications small businesses will never use or need. The software is ideal for owners of small to mid-sized businesses, and was designed and engineered for ease-of-use by those who have only basic computer skills and little accounting know-how.
"We intentionally engineered this software for those end-users who are not professional accountants and payroll tax experts," explains Dr. Ge, President and Founder of ezPaycheck. "You don't even need to have much knowledge of computers. We believe small business software should be simple - stupid simple - so that owners can focus their time and energy on running their businesses, not trying to figure out how to run payroll software."
For More Information Please Contact:
halfpricesoft.com
P.O. Box 17067 Louisville, KY 40217 USA
email: services (at) halfpricesoft (dot) com
Fax: (866) 909-6448
or visit the Web Site at: http://www.halfpricesoft.com
# # #