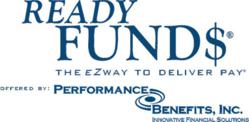 "We've developed the ReadyFUND$ payroll card program based on pro-active feedback from our cardholders and the survey results reflect that."
Centennial, CO (PRWEB) April 26, 2012
ReadyFUND$® Payroll Cards released their annual cardholder survey results for the ReadyFUND$ Premier Access® MasterCard Payroll Card® ("ReadyFUND$ Payroll Card") today. The ReadyFUND$ Payroll Card features the eZsuite® of financial services, which provides cardholders a comprehensive array of financial services designed specifically to meet their financial needs. Cardholders rated elements of the card program such as fees, features, customer service and more.
Some highlights of the ReadyFUND$ Payroll Card Cardholder Survey includes:

93% of Cardholders were satisfied or very satisfied with their ReadyFUND$ Payroll Card
92% of Cardholders rate the Cardholders fees as reasonable or very reasonable
92% of Cardholders would recommend the ReadyFUND$ Payroll Card to others
100% of cardholder are satisfied or very satisfied with customer service through the Cardholder website with an 89% level of customer service satisfaction overall.
"We're ecstatic with the response received from our ReadyFUND$ cardholders. We've developed the ReadyFUND$ Payroll Card program based on pro‐active feedback from our cardholders and the survey results reflect that" said Tim Birk, President and CEO of ReadyFUND$. The ReadyFUND$ Premier Access MasterCard Payroll Card is available to businesses of any size as an instant issue or personalized card and is accepted at millions of locations throughout the world, wherever MasterCard Debit Cards are accepted. Added Birk, "We're proud to have a MasterCard Payroll Card® that employees appreciate and their employers can feel good about and there's still more to come."
For more information on the Cardholder Survey, visit http://www.readyfunds.net/survey.
ReadyFUND$ was established in 2005 and is offered by Performance Benefits, Inc., a pioneer in providing innovative financial services that make peoples' lives easier and help employers improve their bottom line. The ReadyFUND$ Premier Access MasterCard Payroll Card and eZsuite of Financial Services enables businesses to convert 100% of their employees to electronic payroll and a "greener" way to pay.
###