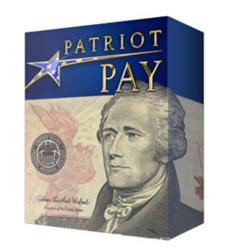 "Typically, employers have to purchase expensive software to process reported tips," says Smith. "But now we can offer them Patriot PAY at the same low cost as we would any other small business owner."
Canton, OH (PRWEB) May 09, 2012
Patriot PAY online payroll software is now equipped to handle reported tips, a plus for U.S. restaurant owners and other small businesses who need to manage payroll for tipped employees. Small business owners can count on Patriot PAY to withhold payroll taxes from reported tips with guaranteed accuracy.
Patriot PAY online payroll software, developed by Patriot Software, Inc., is an affordable, accurate way for U.S. small business owners to handle their payroll needs. Customers can login from anywhere and run payroll as often as they like at no additional cost. They can choose from a variety of pay methods such as paychecks or direct deposit, and add an unlimited number of deductions, or pay types, deductions, or contributions.
With this latest product enhancement, business owners can now quickly add reported tips to each employee's pay, with tips appearing as a line item on employee pay stubs, and income taxes properly withheld. At year-end, Patriot PAY business customers can print out W-2s showing the reported tips for each employee.
The tip functionality expands access to more types of businesses looking for a simple, cost-effective way to manage their payroll needs. In addition to restaurants, other businesses such as hair salons, spas, or taxi services can take advantage of using Patriot PAY to handle payroll, according to Wendy Smith, Patriot Software payroll manager.
"Typically, employers have to purchase expensive software to process reported tips," says Smith. "But now we can offer them Patriot PAY at the same low cost as we would any other small business owner."
Patriot PAY is offered in 33 states as well as Washington, D.C., and the U.S. Virgin Islands. The monthly cost for Patriot PAY starts at just $10 for businesses with one employee, with pricing available for up to 50 employees. Patriot PAY offers free set-up, and customers also enjoy free access to routine customer support.
Small business owners can try out Patriot PAY with a free 7-day Sample Account. A free Guided Demo is also available to customers who would like a personal tour of the software with a support representative. Customers who sign up for Patriot PAY receive their first 30 days free. There's no obligation, and customers can add or cancel software anytime with no hassle.
About Patriot Software, Inc.
Patriot Software, Inc., located in Canton, Ohio, develops online software for American small businesses, including online payroll software, applicant tracking software, employee self-serve software, and more. For information, contact Patriot Software, Inc., at (877) 968-7147, or visit our Press Page at http://www.patriotsoftware.com/press.