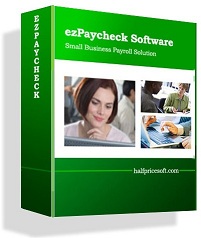 Many customers contacted us for more custom deduction fields in ezPaycheck salary software to meet their special tax needs. We make it a priority.
Virginia Beach, VA (PRWEB) April 30, 2013
There are over 600,000 businesses in Virginia and most are small businesses with no accountant and IT on staff. To streamline the paycheck processing for these small firms, Halfpricesoft.com(http://www.halfpricesoft.com) released new edition of 2013 ezPaycheck payroll software with more flexible deduction options.
Founded in 2003, Halfpricesoft.com has established itself as a leader in meeting the software needs of small businesses in US. The software's graphic interface leads users step-by-step through setting up employee information, set up tax options, calculating payroll - including calculation of federal, state and local taxes; deductions for Medicare, insurance and 401(k) plans; and printing paychecks & tax forms.
EzPaycheck payroll software can handle Federal tax, state tax, social security taxes, medical tax, and federal and state unemployment tax automatically. In response to requests from customers, the new version payroll program can now support up to 7 custom deduction fields, and makes it easy to handle city taxes, county taxes, SDI, occupation tax, 401K, flexible account, flexible account and garnishment deduction.
"Many customers contacted us for more custom deduction fields in ezPaycheck salary software to meet their special tax needs. We make it a priority to be responsive to customer requests so we included this change in the 2013 edition," said Halfpricesoft.com founder Dr. Ge. "Now small business and nonprofits can take advantage of automating their payroll tasks."
Potential customers are encouraged to test-drive the easy-to-use, flexible features of ezPaycheck payroll software risk free at
http://www.halfpricesoft.com/payroll_software_download.asp with no credit carded
needed and no obligation.
EzPaycheck payroll and check printing software highlights:

Prints payroll checks on blank computer checks or preprinted checks.
Automatically calculates Federal Withholding Tax, Social Security, Medicare Tax and Employer Unemployment Taxes.
-Includes built-in tax tables for all 50 states and the District of Columbia.
Creates and maintains payrolls for multiple companies, and does it simultaneously.
Supports Daily, Weekly, Biweekly, Semi-monthly and Monthly payroll periods. Features Report Functions, Print Functions, and Pay Stub Functions.
Print Tax Forms 940, 941, W-2 and W-3.
Support multiple companies, unlimited employees and paychecks.
Priced at just $89 per installation for new users ($59 for ezPaycheck 2012 users), ezPaycheck payroll software is affordable for any size business. Small business owners who are seeking productivity-booting solution are welcome to start the 30-day test drive of ezPaycheck payroll software at: http://halfpricesoft.com/payroll-software/Payroll-software.html
About Halfpricesoft.com
Halfpricesoft.com is a leading provider of small business software, including payroll software, employee attendance tracking software, check printing software, W2, software, 1099 software, and ezACH Deposit software. Today Software from halfpricesoft.com is trusted by thousands of users and help small business owners simplify their payroll processing and business management.