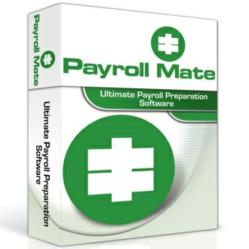 Payroll Mate is always one of the very first payroll preparation solutions to implement payroll updates and new government regulations.
Chicago, IL (PRWEB) January 03, 2012
Real Business Solutions (http://www.PayrollMate.com) is helping US businesses, tax practitioners and payroll service bureaus comply with the changes to the payroll tax regulations made in the "Payroll Tax Cut Continuation Act of 2011" signed into law by President Obama on Dec. 23 2011. Payroll Mate is easy-to-use and easy-to-learn payroll system that is comprehensive and highly affordable. It was developed in response to payroll and tax professionals' requests for a solution that covers all the angles of US payroll processing, and yet remains user-friendly and reasonably-priced.
President Barack Obama has signed legislation extending a payroll tax cut for two months. Nearly 160 million workers will benefit from the extension of the reduced payroll tax rate that has been in effect for 2011. The "Temporary Payroll Tax Cut Continuation Act of 2011" temporarily extends the two percentage point payroll tax cut for employees, continuing the reduction of their Social Security tax withholding rate from 6.2 percent to 4.2 percent of wages paid through Feb. 29, 2012. This reduced Social Security withholding will have no effect on employees' future Social Security benefits.
According to the IRS employers should implement the new payroll tax rate as soon as possible in 2012 but not later than Jan. 31, 2012. For any Social Security tax over-withheld during January, employers should make an offsetting adjustment in workers' pay as soon as possible but not later than March 31, 2012.
All users of Payroll Mate 2012 will get the new payroll updates for free. The software maker is also advising small businesses that are still doing payroll by hand to start using a payroll software solution, which offers serious benefits, from increased payroll preparation efficiency to tangible cost savings.
Payroll Mate is always one of the very first payroll preparation solutions to implement payroll updates and new government regulations. Year after year, thousands of businesses and accounting professionals trust Payroll Mate to do payroll and prepare payroll taxes.
Payroll Mate software highlights:

Built-in tax tables for all federal and state payroll withholding tables.
Supports different types of pay periods including weekly, biweekly, semimonthly and monthly.
Handles salary-reduction plans such as 401(k) and 403(b).
Supports customizable income, tax and deductions categories.
Exports Payroll checks to Quicken and accounting software like Microsoft Office accounting.
Supports the following payroll forms: 941, 940, 944, W-2, W-3, California DE-6 , California DE-7 , Texas C-3 , Texas C-4, New York NYS-45, Illinois 941 and Illinois UI-3/40.
Can be used as QuickBooks payroll subscription alternative with the ability to export payroll data to QuickBooks software.
Supports income per mile and per piece.
Handles cafeteria plans.
Export payroll data to W2 Mate software, which is a comprehensive W2 and 1099 program which supports printing and e-filing IRS forms W2, 1099-MISC, 1099-INT, 1099-DIV, 1099-R, W-3, 1096, 1099-S, 1098-T, 1098, 1099-A, 1099-B, 1099-C, 1099-PATR and 1099-OID.
Exports payroll reports to Excel, CSV and PDF.
Handles simple IRA plans.
Prints on Laser and Inkjet checks.
Supports employees with multiple pay rates.
Prints on preprinted scannable W2 forms and W3 forms.
Generates comprehensive reports including payroll journal, tax liability and deposit requirement.
Creates NACHA files for payroll direct deposit processing.
Network-ready.
Prints MICR checks on blank check stock.
Give the 2012 payroll tax calculator from PayrollMate.com a test drive and see for yourself how easy managing payroll can be. Visit Payroll Mate payroll software page by pointing your browser to http://www.PayrollMate.com
###