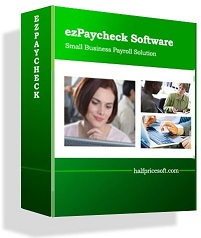 Payroll tax calculations should not be a nightmare for small businesses that usually do not have accountant and IT on staff
Atlanta, GA (PRWEB) April 15, 2013
Starting and growing a small business presents a series of never-ending challenges. Small business owners who want to run payroll processing more effectively can try out the new ezPaycheck payroll software from halfpricesoft.com (http://www.halfpricesoft.com). The new edition was updated with graphic user interface and form level help buttons to shorten learning the curve for the first payroll software customers who may not know much about accounting and computer.
The latest version also add easy data backup and restore functions to prevent payroll data loss to viruses, spyware and disk crashes. ezPaycheck developers hope this new feature can provide small business customers with peace of mind and a way to protect their payroll data safely, securely and quickly.
"Payroll tax calculations should not be a nightmare for small businesses that usually do not have accountant and IT on staff. We believe small business payroll software should be easy-to-understand, easy-to-setup and easy-to-run," said Halfpricesoft.com founder Dr. Ge. "We believe small businesses should focus their time and energy on running their businesses, increase profits, improve customer satisfaction, not trying to figure out how to run payroll software and report tax."
Founded in 2003, Halfpricesoft.com is a new up and coming leader as a payroll software developer. This innovative software now has many new features included in the 2013 edition. These options will assist small businesses in ways never imagined. Now customers can can set up tax options, calculate payroll, which includes federal, local and state taxes as well as deductions for Medicare, insurance and 401K all in house!
Small Businesses looking for ways to save money on payroll processing and tax reporting can try out this new ezPaycheck payroll solution free for 30 days from http://www.halfpricesoft.com/payroll_software_download.asp, with no obligation and risk.
The main features include:

Prints payroll checks on blank computer checks or preprinted checks.
Automatically calculates Federal Withholding Tax, Social Security, Medicare Tax and Employer Unemployment Taxes.
-Includes built-in tax tables for all 50 states and the District of Columbia.

Creates and maintains payrolls for multiple companies, and does it simultaneously.
Supports Daily, Weekly, Biweekly, Semi-monthly and Monthly payroll periods. Features Report Functions, Print Functions, and Pay Stub Functions.
30 day free trial. No registration required and absolutely no obligation.
Managing payroll should not be a pain for small business owners. To start the 30-day free test drive of ezPaycheck payroll software, visit
http://www.halfpricesoft.com/payroll-software/Payroll-software.html
About Halfpricesoft.com
Halfpricesoft.com is a leading provider of small business software, including payroll software, employee attendance tracking software, check printing software, W2, software, 1099 software, and barcode generating software. Today Software from halfpricesoft.com is trusted by thousands of users and help small business owners simplify their payroll processing and business management.